Xerox has announced the launch of new products and software to enhance productivity for "the increasing pool of hybrid workers." The extended range of hardware and software technologies are all aimed at maximizing productivity.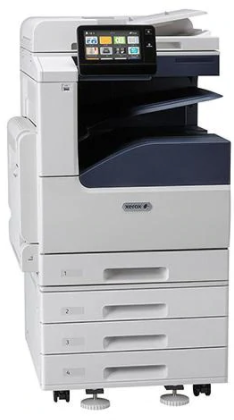 In the office
The Xerox VersaLink C7100 and Xerox VersaLink B7100 Series Multifunction Printers (MFPs) are the OEM's newest workplace assistants powered by ConnectKey Technology. This VersaLink series features new single-pass document scanning, turning hardcopy into digitized files. File management is through direct access to the largest portfolio of productivity enhancing apps from Xerox's App Gallery. Comprehensive security, including McAfee whitelisting technology, constantly monitors, detects and blocks threats in real time keeping data and documents secure.
At home
Completing Xerox's personal and small workgroup portfolio, the Xerox C315, Xerox B305 and Xerox B315 MFPs are ideal for lean, busy work teams, home offices and tight spaces. Quiet, compact, mobile-ready and easy-to-use, these seamlessly connect to the Xerox Workflow Central platform, boosting productivity with the collection of workflow automation and digitization tools. Features include Wi-Fi and Wi-Fi Direct, mobile printing with Apple AirPrint, and Mopria Print Service, and easy setup with Xerox Smart Start software.

On-the-go
The Xerox Workplace Kiosk is ideal for convenient document processing while on the go. Those hosting this kiosk – in locations such as hotels, cafes and libraries – offer customers print/copy/scan/fax capabilities through touch-less, mobile connectivity and familiar digital payment methods.
Any where any time
Regardless of location, today's workers are focused on being productive everywhere. Recently announced cloud-based content-management platform Xerox DocuShare Go, allows teams to automate how to organize, share, collaborate and back-up content.
Availability
The Xerox VersaLink C7100 and B7100 Series are available in all regions. The Xerox C315 is currently available in EMEA and will be made available in Canada and the U.S. Beginning in April of 2022. The Xerox B305 and Xerox B315 are available in all regions. The Xerox Workplace Kiosk availability will be extended to all regions throughout 2022. DocuShare Go is now available in the United States, Canada and Western Europe.