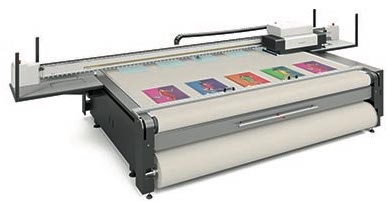 OEM swissQprint has unveiled a total solution for UV flatbed printing on glass, comprising a retrofit glass-printing option and an adhesion-optimized ink set. "Individually printed glass elements are all the rage in interior design for kitchen splashbacks, shower stalls and room partitions, glass doors, lift cabin panelling, wall art, etc.," said the OEM. "For those already providing such services – and others with plans to do so – swissQprint has created a mechanical solution for an efficient and clean process, supplemented by an ink set for optimum adhesion." The glass option and inks are retrofittable to all current swissQprint LED flatbed printers, so there's no need to make major investments in new equipment.

A pivoting alignment edge with 5 step-free adjustable horizontal stops ensures precise positioning of glass panels on the print bed. The latter is covered by special protective paper that's air-permeable. So the vacuum holds down the media, but the paper retains ink printed in the bleed margin. The new print bed stays clean, and with its roll-to-roll option, the operator advances the paper at the touch of a button. This means short set-up times between jobs.
Inks adhere without primer. The ink set optimized for glass printing includes process and light colours, as well as white and effect varnish. A bonding agent is unnecessary, which eliminates one process step. The varnish is used for finishing – for example to produce partial frosted glass or gloss effects. With the new technology, both newcomers and existing swissQprint users can capitalize on the current trend and specialize in direct printing on glass.