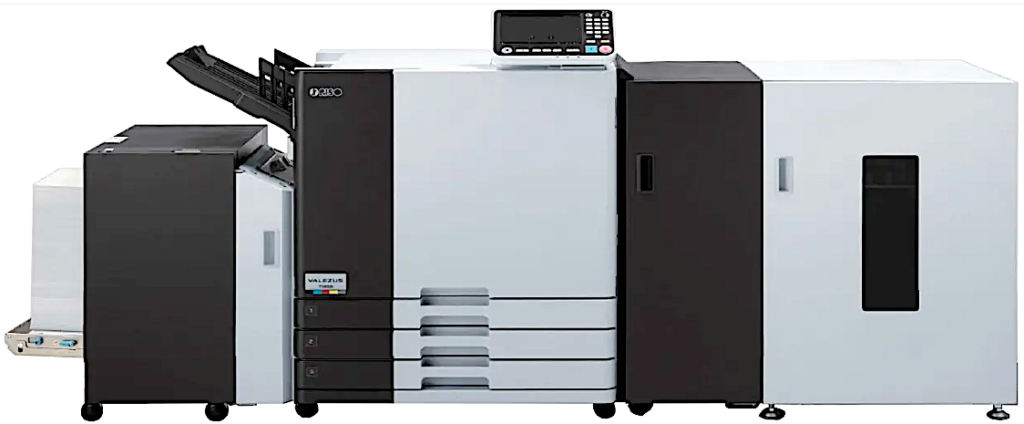 Japanese OEM Riso has launched two new cutsheet high-speed inkjet printers for the production print market. The full-colour single-engine Valezus T1200 is ideal for short, medium and long-run transactional printing. It offers a high print speed of 165 pages per minute (160 pages per minute, simplex letter, long-edge feed) and is equipped with a 4,000-sheet delivery capacity feeder and stacker. It combines excellent cost performance with the flexibility to meet the varying project demands "that many large continuous-feed printers find difficult to handle efficiently." The compact printer, which supports AFP/IPDS, PS and PDF formats, is designed for low-cost integration into your current workflow. "The Valezus T1200 creates new business opportunities in the diversifying transactional print market," Riso added.

The Valezus T2200 is a twin-engine full-colour inkjet printer that replaces the T2100, which was released in 2019. "Both of these new devices present companies with unique opportunities to meet high-volume demands that can't be handled by other printing technologies," Riso said. Both printers also use a new high-density ink formulation from Riso that further improves the quality of the output. The Valezus T2200 allows users to achieve productivity levels typical of many high-end printing devices, while retaining the versatility of a cutsheet inkjet digital press. Users can print up to 330 A4 pages per minute in B&W or full colour. Twin-feed trays and delivery stackers allow users to load and unload "on the fly", maintaining maximum production without interruption. Vacuum-feed and jogger-stacking mechanisms, along with a removable paper cart, "offer exceptional levels of accuracy, reliability and easy transportation to post-print processes," Riso added.

In addition, Riso's cold inkjet printing technology does not require sheets to be treated before printing or heated and dried after print – resulting in cold and flat output. This greatly reduces the risk of paper curl and therefore ensures maximum uptime. When in use, the T2200 requires exceptionally low energy consumption due to its cold printing process. Its unique oil-based pigment ink results in a permanent image for improved document security and integrity.