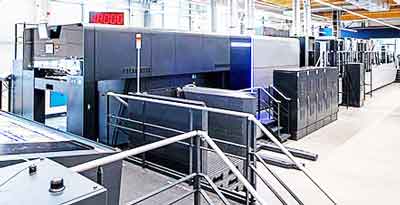 The OEM's Rapida 145 and Rapida 164 now incorporate a new design and additional automation functions. New features include:
Printing speeds of up to 18,000 sheets/hour (Rapida 145) and 17,000 sheets/hour (Rapida 164)
Modern, interactive operating concept
Extended substrate range and raised foundation
Various configurations for cost-efficient inline production
Automation capabilities for ultra-fast job changeovers
What was originally planned as an international event was recently presented online to smaller groups of interested users due to the Covid-19 pandemic and various regional travel restrictions. The new-generation Rapida 145 and Rapida 164 large-format, sheetfed offset presses can accommodate sheet formats up to 1,060 x 1,450 mm (Rapida 145) and 1,205 x 1,640 mm (Rapida 164) at a standard maximum production speed of 16,000 sheets per hour in board production. A high-speed package raises the top speeds another notch, allowing them to handle 18,000 sheets/hour (Rapida 145) and 17,000 sheets/hour (Rapida 164).
Their operating concept has also been given a makeover. Large touch panels on the feeder on the first printing unit, and at the delivery, render many buttons and other operating elements superfluous. All routine processes that are normally activated decentrally from the console can therefore be controlled just as conveniently on the press itself. A prominent status indicator at the delivery provides instant updates on the current press status. Different colours are used to signal whether the press is in production, standby or maintenance mode.
Digital control and monitoring. The ErgoTronic console features a touchscreen monitor and a large wallscreen. All relevant information is presented in a clearly structured fashion on both displays. A host of additional functions allows production to be monitored in real time. Production data and other information, such as CO2 emissions, are available at a glance. The console is the digital 'hub' for all production processes in a print shop – including autonomous printing of a job list, app-based control of many press functions, access to the Customer Community as a central point of contact between users and the manufacturer, and a function to start individual press programs using presets based on the data supplied or previously saved. This applies equally to quality assurance. Three different systems combine inline colour control (with the option of grey balance control) with functions for production monitoring (QualiTronic PrintCheck), comparison with the pre-press PDF (QualiTronic PDFCheck) and content inspection (QualiTronic PDF HighRes).

Additional benefits for packaging specialists. The new Rapida large-format generation brings significant improvements for the core application area of packaging printing in particular. Substrate versatility was already very broad in the past, allowing board thicknesses of up to 1.2 or 1.6 mm. Universal gripper systems made this possible. On the new presses, the range of substrates handled can be increased even further beyond the 2 mm mark by simply converting the printing units. For companies that work with heavy board grades or offer post-printing on corrugated board involving printing and finishing a full spectrum in an inline process, the new capabilities "represent a quantum leap forward," Said Koenih & Bauer.Other helpful changes concern the options to allow increased pile heights. Five variants are available, covering the range from 185 to – as a new option – 925 mm. Raising piles by 185, 370 or 555 mm can also be achieved by placing the press on cast blocks. The additional outlay for special press foundations can then be saved.
Many less visible but nonetheless important details have also been overhauled. These include the sheet-guiding elements in the delivery and delivery extension (dryer section). Modifications in these areas have been instrumental yielding top production speeds of up to 18,000 sheets per hour with an even broader range of substrates and finishing applications. Because of a dynamic sheet brake, visibility and accessibility at the delivery remain unhindered. There's no need for complicated sheet-braking systems or delivery grippers.Long-life gripper shafts with automatic lubrication and a reduced number of manual lubrication points help simplify maintenance. The same applies to the new AC drive motor of the new generation, large-format Rapidas. This makes these presses not only virtually maintenance-free, but also reduces energy consumption.
When it comes to automation, the new Rapida generation "sets a new benchmark in large-format printing," according to the company. The sidelay-free infeed DriveTronic SIS, simultaneous plate changing with DriveTronic SPC, the disengaging of unused inking units as a standard feature, CleanTronic cloth-based washing systems for parallel washing processes, fast coating forme changes with DriveTronic SFC and anilox roller changing with AniSleeve, are just a few of the automation components that enable many processes to run concurrently at job changeover, thereby contributing to "the shortest ever make-ready times." Koenig & Bauer added that all system components and automation functions serve one key goal – to provide users with the best possible support, and to enable them to produce efficiently and successfully, whether in the packaging sector or in the commercial segment.