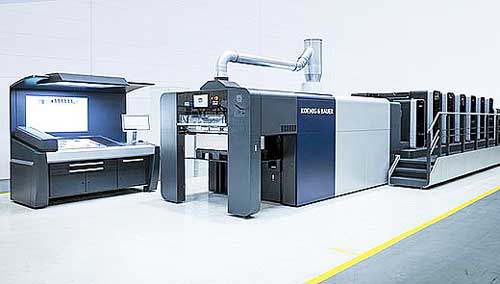 A 6-colour Rapida 105 with coater and extended delivery (similar to the one seen here) showcased its numerous performance capabilities in a series of live demonstrations at the recently concluded China Print tradeshow that was held June 23 – 27 in Beijing. In a milestone for Koenig & Bauer in the Chinese market, the world première of the OEM's new generation of Rapida 105 Sheetfed Offset Presses was held under the theme "We print your world." A demonstration of the 6-colour coater press with extended delivery (maximum sheet format 720/740 × 1,050 mm) was held in a series of practice-oriented live shows each day. It was used to produce a broad spectrum of products – including high-quality folding cartons and door hangers) and paper (landscape and animal posters). The live demonstrations allowed different types of job changeovers to be shown – not only image and substrate changes, but also the disengaging and re-engaging of individual printing units. This helped visitors gain an immediate impression of the exceptional performance of the new Rapida 105, both in print production and during make-ready for a subsequent job.
Future-oriented B1 technology. The press was designed on the basis of the Rapida 106 and Rapida 106 X series, and is distinguished by the upgrades to its automation components, increased printing speeds, and a host of Rapida-typical design solutions, such as
Comprehensive pre-set capabilities
Universal gripper systems with a single setting for all substrates
Environmentally friendly cloth-based CleanTronic washing systems
VariDry drying systems
Measuring and control systems for quality assurance
The 105's sheet-guiding system is another component that underwent further optimization – something that the feed table with its single central suction belt makes particularly apparent. These upgrades will equip print companies to master current and future challenges in equal measure, said the OEM. Due to its high substrate flexibility (0.06 – 0.7 mm as standard, or up to 1.2 mm with an optional package for board handling or corrugated substrates) and virtually unlimited range of configuration options with up to 8 printing units (as well as perfecting units for 4-over-4 production, inline coating facilities, cold foil units, web-to-sheet feeders and multiple logistics options), the Rapida 105 is "the ideal solution for commercial, packaging and label printers alike." said the company. "This new press generation will enable print companies to make their products even better and more flexible than ever before. In addition, a range of systems for register, colour measurement and control, and production monitoring with QualiTronic PrintCheck, guarantees perfect print quality."

China now a key sheetfed offset market for Koenig & Bauer. Sheetfed offset presses of the Rapida series are extremely popular in the Chinese market, and demand for them has remained stable for several months now, with new investments being made by larger print companies. The current trend emerging in China tends to favour sheetfed offset systems with six or more colours and inline finishing options. Alongside highly complex equipment variants, customer demands primarily focus on automation solutions for faster make-readies and for boosting production efficiency. These include fully automatic plate changing (FAPC) and parallel washing capabilities (CleanTronic), as well as non-stop solutions in combination with pile logistics. Koenig & Bauer added that expectations of quality are also higher than ever, especially with regard to printed packaging. As a result, more and more presses are being configured with inline measuring and control systems. The same applies when it comes to finishing. Alongside coaters and drying systems, there's a growing demand for systems for cold-foil applications, for example. Plus, any number of print companies are upgrading to large-format sheetfed offset, leading to an increase in orders for the Rapida 164 series (sheet format up to 1,205 mm x 1,640 mm). The joint venture Koenig & Bauer Durst has also identified a high level of interest among Chinese printing companies with its new VariJET 106 Press for digital folding-carton production. A model of the press was showcased at China Print and provided insights into future packaging printing applications.