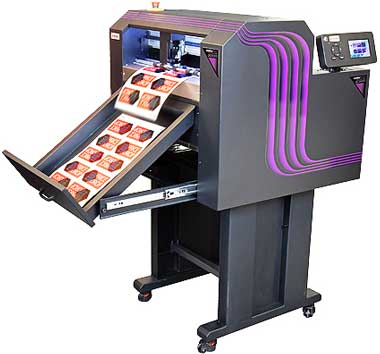 UK-based Intec Printing Solutions has unveiled its new ColorCut SC5000 Automated Sheet Cutter, characterizing it as "revolutionary" and "filling a massive gap in the print-finishing marketplace." The OEM added that "there's currently no other model available worldwide that offers both 100% reliable high-volume auto-feeding, along with a dual tool head for both cutting and creasing." Blending flatbed and sheetfed technologies, the ColorCut SC5000 is ideal for fast, automated production of both die-cutting and creasing lightweight card stocks for packaging and POS, paper and polyester projects – as well as kiss-cut, sheet-label production.
A "revolutionary" new suction-operated belt-feeding mechanism feeds from its 1,000-sheet media stacker. At the sharp end, the dual tool-cutting head features a double-ended creasing tool alongside the cutting tool. This enables the SC5000 to both cut and crease. These two aspects alone, said Intec, as well as its affordable price, put the SC5000" head and shoulders above any device in the print-finishing market space." The SC5000 is fully automated and can be set to provide complete, unattended operation. Similarly, being an on-demand digital sheet cutter with no dies or set-up costs, users can easily generate one-off samples, develop batches of prototypes, or cut thousands of items during a full production run.

Aimed at busy in-plants seeking an affordable, high-capacity device for complete, unattended cutting, its new suction belt system draws upon the media stack and in conjunction with an LED sensor, the top sheet in the stack is separated from the other sheets by an airbladeLITE system. The suction feeding continuous-belt-drive mechanism is automatically synchronized to lower and pick the top sheet when offered – and presents it on to the cutting strip. This provides reliable, unattended operation with particular attention paid to the feeding of popular media such as card stocks, vinyl labels, polyesters and even "tricky" laminated sheets. With the arrival of the given printed sheet at the cutting strip, a live CCD video camera automatically reads the QR-coded sheet and instantly retrieves the associated digital cut file. The pre-determined cutting tasks are communicated to the cutting head for exact and precise execution of the tasks required. There's therefore no need for a highly skilled machine operator.