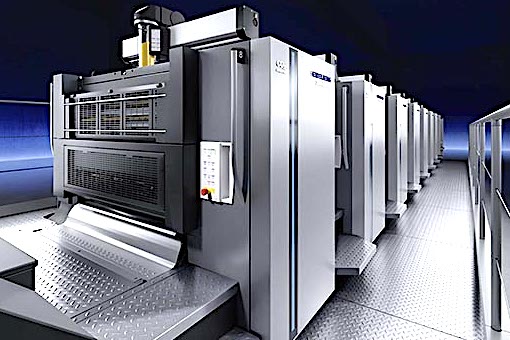 "Perfect from all sides" is the slogan for the market launch of the OEM's new-generation Speedmaster SX 102 Offset Press, which has been enhanced inline with several requirements from ongoing customer feedback. The press is aimed primarily at commercial print shops that require a high level of productivity and top-quality perfecting printing. Typical areas of use range from brochures and commercial print products, to inserts for pharmaceutical packaging (and therefore include applications involving very thin materials that need to be printed in a single pass). The basic model offers an excellent price/performance ratio, with configurations extending all the way through to an autonomous "Push to Stop" perfecting press. The new 92 format option (650 x 940 millimeters) cuts printing plate costs by up to 20% compared with the conventional 102-sheet format (720 x 1,020 millimeters), which is also available. This is a key economic consideration, especially given the recent rise in raw material prices, said Heidelberg.

User benefits from Speedmaster XL technology transfer
The new Speedmaster SX 102 is designed as a scalable press. Depending on the range of applications and the output/automation requirements, the basic model (already equipped with the tried-and-tested Heidelberg perfecting technology) can be ordered with many other assistance systems transferred from Speedmaster XL technology. These include Intellistart 3, Intelliline, Intellirun, Wash Assistant, Powder Assistant, and many more. If required, the configuration can be extended all the way through to Push to Stop technology for autonomous printing.
With the help of artificial intelligence, the digital assistance systems also achieve a further significant reduction in the number of manual interventions by operators. Besides saving time, this also means there is less risk of errors. Due to its Prinect Press Center XL 3 and the Prinect workflow, the Speedmaster SX 102 can be fully integrated into a print shop's overall workflow – which ensures efficient data management, precise pre-settings, up-to-date production data, and informative reports. The Preset Plus feeder and delivery also originate from XL technology, along with other proven solutions.
New ergonomic concept combined with Heidelberg UX
The Speedmaster SX 102 features an ergonomic design with a new gallery and guards that also come from the Speedmaster XL series. The Heidelberg User Experience (UX) provides staff with a modern working environment, the OEM pointed out. The end-to-end ergonomics extends to the operation of every single component. By making life easier for operators with user-friendly navigation, the Prinect Press Center XL 3 with Speedmaster Operating System delivers predictable results and boosts overall performance. The various Prinect colour measurement systems that are available focus on reproducible colour stability and minimal paper waste.