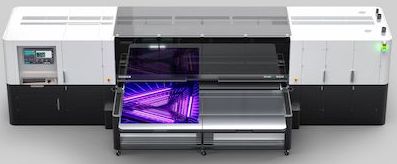 Part of the Acuity Ultra product family, the new Acuity Ultra Hybrid LED is the Fujifilm's first foray into the high-end, wide-format market and offers "all the benefits of ease-of-use, ultra-high quality and a competitive ROI, combined with the ability to print on both rigid and flexible substrates." The new wide-format hybrid will be commercially available this Fall. Part of Fujifilm's 'Blueprint' concept, the Acuity Ultra Hybrid LED is a 3.3-metre, high-end printer that offers high quality printing at speeds of up to 218 m²/hr (RTR), and delivers a print resolution of up to 1200 x 1200 dpi. It provides "a competitive return on investment for both rigid and flexible applications all in one platform. It's engineered with the operator in mind and designed with specialist inks to support the printing of exceptional 'near-photographic' interior graphics and the high-speed printing of banners and PVC signage."
Along with media loading and unloading tables, it also features a dimpled table surface to support all media types while allowing easy media positioning. A robust catch mechanism protects against accidental damage, and secure locking allows for media-feed accuracy throughout every print run. Its GUI features the same exceptional design features found on the Acuity Ultra R2 and includes additional functionality to handle rigid media production at up to 6 sheets simultaneously. An intelligent vacuum control system automatically turns on the correct vacuum zones needed for any print job based on the width of the media, and the vacuum motor power constantly adjusts to maintain optimal media hold-down (regardless of media type and size), ensuring accuracy and high print quality. For maximum flexibility when printing roll-to-roll, a bespoke-designed airshaft allows dual-roll functionality, so two media rolls of different diameters (each up to 36cm) can run at the same time.
A new LED UV inkjet ink

Fujifilm has created an entirely new ink range, Uvijet UH, especially for this new model, with 6 colours (CMYK, Lm, Lc) available as standard, and white ink also available as an optional extra. The new ink has both Greenguard Gold and AgBB certifications. "Uvijet UH has been carefully designed to adhere to a broad range of rigid and flexible substrates, while also matching the exceptionally high quality of the Uvijet GS and AU inks used in the Acuity Ultra R2," said Fujifilm. The printer and the ink were both designed by Fujifilm and work together to maximize quality while also minimizing ink usage, helping to keep running costs down and boost ROI as well.