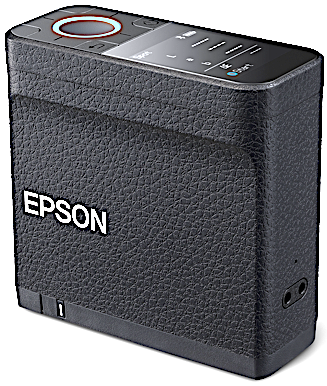 Epson America (Los Alamitos, California) has unveiled its first Epson-built spectrophotometer, the SD-10. Designed to give its Epson SureColor wide-format customers a tool to accurately measure colour, the SD-10 is "an easy-to-use and full-featured colour measuring device." The compact, battery-powered unit can be used as a standalone unit via its built-in LCD display, or wirelessly connected to a smartphone through the mobile app, to make critical colour decisions on-the-go. The SD-10 is ideal for print shops, designers and salespeople to capture, reproduce and confirm colours with confidence, the OEM added.
"Many existing coloubr workflows are labour-intensive and communicating colour can be arbitrary and subjective," said Eric Holm, Professional Imaging, Epson America. "Well received by both textile and signage users for its simplicity to measure and communicate accurate colour, the Epson SD-10 allows an entire team to speak the same colour language – from the salesperson to the designer to the print department."

Easy to use and carry, its embedded battery allows for measurements to be taken virtually anywhere, anytime. The SD-10 features industry-standard measurement modes (M0, M1e, M2) and Epson's advanced micro-electromechanical system (MEMS) technology, used to construct devices with sub-micron precision. Accuracy on textured surfaces is achieved via a large, 7.6 mm aperture and 360-degree LED illumination that reduces shadows and irregularities to increase the accuracy of colour measurements. A built-in LCD display makes standalone operation possible, allowing for quick viewing of a measured colour's L*a*b* value. Also, the last two colours are always being compared and the delta-E value is displayed. The Epson Spectrometer mobile app allows users to wirelessly connect to mobile devices where they can build custom colour libraries, find similar Pantone colours, and compare measured colours. The app can be used to see where a colour stands in comparison to your printer's ICC profile. Additional features include:
• Wireless Bluetooth connectivity – Connect to a mobile device or computer using Bluetooth low-energy technology.
• Large aperture for textured surfaces – 7.6 mm aperture measures up to 1.5 times the area covered by similar products, allowing for greater accuracy.
• Integration with Epson Edge Print software – Directly measure and replace colours within the print workflow and connect via Bluetooth or USB.
• Ability to build colour libraries – The mobile app can be used to create colour palettes, find similar Pantone colours, and record measurements.