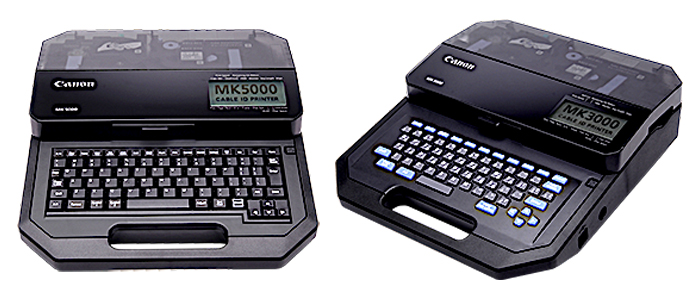 Canon U.S.A. (Melville, New York) has announced the launch of two new cable & wire marker printers – the MK5000 and MK3000. The two new printers have full keyboards, highly visible backlit LCD displays, and are able print onto a wide range of media, including label tapes and tubes (for strong wear and tear resistance). Both feature thermal transfer print technology and high print resolution for each application. Canon added that it's introducing these new printers to assist the workflow of businesses across a wide range of industries in addition to commercial printing – including computer networking, data-centre management, telecommunications, audio/video, heating, ventilation, air conditioning, and many more.
The Canon MK5000 and MK3000 deliver fast throughput, printing up to 40mm and 25mm per second, respectively. Both printers are designed to produce professional-looking printed materials, supporting print resolution of up to 300 dpi, "resulting in text and characters that are sharp, clear, and crisp." Both printers support automatic full-cut or half-cut of print media with user-adjustable depth and cutting speed, for convenience and a quality finish. The printers also support a range of tube diameters, from 10mm to 1.5mm, as well as heat shrink tubes. The MK5000 can split a print job with up to three printers from the PC, which helps increase productivity and reduce overall printing time.

Both printers use rechargeable batteries and can store up to 250,000 characters, providing a wider range of data-entry possibilities. The PC Connectivity support of the MK5000 and MK3000 printers also enhances productivity and workflow by allowing users to manage large quantities of data on personal computers, helping to reduce print time out in the field. The cable printers are also small enough to carry in the field, weighing just under 6 pounds. Both can print on "generic" media that will help reduce costs associated with many projects.