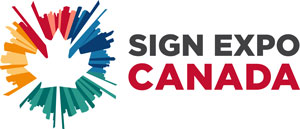 Hall 5 of The International Center in Mississauga, Ontario was once again the site of this year's Sign Expo Canada trade show, the first in-person event in two years. It took place Friday and Saturday, September 23 and 24, 2022, attracted 68 exhibitors, and according to organizers (the Sign Association of Canada) was extremely well attended. The 19,000 square feet of exhibit space showcased a wide array of new products and services from major OEMs and other industry leaders, and included live print demonstrations as well.
"It was exciting to be back in person for the first time since 2019," said organizers, "and it's clear there was pent-up demand. Sign Expo Canada kicked off with the Don Morgan Memorial Golf Tournament, which was a sold-out success. The trade show floor was busy, with attendees wanting to see and experience product innovations from the past few years. Many of our exhibitors told us that attendees were there to buy."
Several new events were added in 2022, which were extremely well received by highly engaged attendees. "It was a great opportunity to showcase the craftspeople who make our industry work through special events such as Canada's Wrap Star Competition, the Pin Mounted Letter Install, and the Sign Box Fabrication Challenge," said organizers. "These events not only showcased the vast talent in our industry, but they also created a lot of excitement on the trade show floor as attendees rooted for their favorite teams."
Saturday, September 23 began with two key networking events. The Installers Meet & Greet Networking Event connected installers who discussed their challenges, as well as best practices for installers, in a one-to-one setting. The Breaking Barriers: Women in the Sign Industry breakfast session brought together female sign industry professionals from across Canada, providing them with an opportunity to connect with their peers, and hear from a leading author and coach who offered advice on amplifying their voices, visibility and influence in the workplace. "The successes of 2022 provided a great launching pad for 2023, so please save the date for Sign Expo Canada 2023 – September 21 and 22," the Sign Association of Canada added.