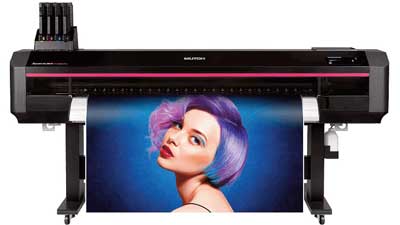 Mutoh America (Phoenix, Arizona) has launched its latest eco-solvent, roll-to-roll printer. The 64" XpertJet 1641SR Pro features Mutoh's new AccuFine Print Head, VerteLith RIP software and i-screen technology – which combine to deliver "high-quality output, high-speed printing and an increase in productivity up to 200% over the XPJ-1641SR," said the OEM. The XPJ-1641SR Pro is the successor to the popular XpertJet 1641SR and has been updated with the latest in Mutoh technologies and hardware. The AccuFine Print Head achieves best-in-class dot placement and accuracy with increased nozzle row length for higher productivity, while i-screen technology reduces banding to create smoother print images and optimizes the capabilities of the print head. The eco-solvent printer also features Mutoh's new VerteLith RIP software, bundled with FlexiDesigner Mutoh Edition 21. VerteLith includes Mutoh Clear Tone and CMYK technologies, two preview functions, and auto-generation of named Pantone spot colours. The XPJ-1641SR Pro is idea for outputting wraps, indoor/outdoor signage, banners, posters and much more.

Other key features of the XPJ-1641SR Pro include:
• DropMaster 2 that automatically calibrates bi-directional alignments, thus saving time and reducing adjustment variations.
• Feed Master, which allows for automatic media-feed adjustments in the feed direction which occurs when media is out of adjustment. Horizontal banding is eliminated due to automatic adjustments by Feed Master technology.
• Nozzle Area Select, used with Automatic Nozzle Checking, detects missing nozzles and cleans them to resume operation. If they're not recovered, Nozzle Area Select is performed and printing is resumed with selected active nozzle blocks.
• Media Tracker prints a barcode on the end of the media so the printer can read the barcode and recognize the amount of media remaining on the media roll when it's loaded on the printer at a later date.
• Four head-height settings for stable print quality and media management. Mutoh Status Monitor remotely checks the printer's operation status in real time.
• MS41 Eco-Solvent Inks in 300ml or 1000ml ink bags. The ink is certified UL Greenguard Gold, making it ideal for use in sensitive areas such as daycare spaces, hospitals and schools.