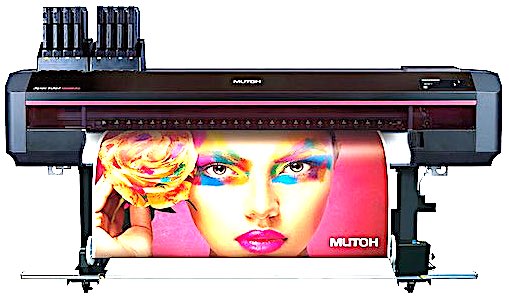 Mutoh America (Phoenix, Arizona) has introduced the 64" XpertJet 1682SR Pro, the latest addition to its eco-solvent printer line. Equipped with Mutoh's new dual-staggered AccuFine HD printheads, the new printer has the power to print up to 89% faster compared to the previous model. Powered by Mutoh's's award-winning VerteLith Genuine RIP Software, and bundled with FlexiDesigner Mutoh Edition 21, the new printer has the ultimate balance of speed and quality, said the OEM.

Other key features of the XpertJet 1682SR Pro include:
Dropmaster 2 automatically calibrates bi-directional alignments, saving time and reducing adjustment variations among printer operators.
A Feed Master sensor allows for automatic media feed adjustments.
Nozzle Area Select will reduce downtime by allowing users to temporarily turn off clogged print nozzle blocks and select active nozzle blocks for printing.
Pairing this feature with the optional Automatic Nozzle Detection Unit will allow users to achieve "seamless print jobs."
Media Tracker prints a barcode prior to removing media. When specified media is loaded again, a built-in sensor reads the barcode and recognizes the remaining media, providing valuable information to users if you they enough media left for any given job.
New 4-stage head-height adjustment for printing a wide range of media.
Multi-stage pressure rollers optimize print feed on various media.
Mutoh MS41 UL Greenguard Gold Certified Eco-Solvent ink. This feature makes it ideal for use in sensitive areas such as daycares, hospitals, and schools.
The new Eco-Solvent printer also utilizes a new set of print effects known as i-screen, created from Mutoh's Intelligent Interweave printing technology. Its i-screen print technology optimizes the AccuFine HD Printheads, greatly reducing banding for smoother print images. Mutoh has also updated the front dryer system to a flat design, thus reducing ink-drying times by up to 20%.