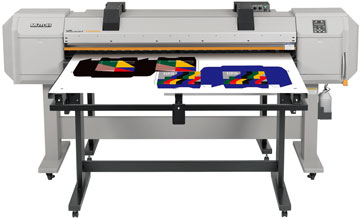 OEM Mutoh (Phoenix, Arizona) has unveiled its new wide-format ValueJet 1628MH Hybrid Printer that combines upgraded features and new technologies designed to produce vibrant output with smoother gradations and a wide colour gamut using Mutoh's VerteLith RIP software. The VJ-1628MH is "the most versatile printer on the market" according to the manufacturer and offers the flexibility of printing on roll or rigid media using MP31 multi-purpose inks in up to 8 colours, including CMYKx2 and CMYKWhWh. A new built-in circulation system for white and magenta inks provides improved colour stability and consistency while a new custom roller-selection function offers diverse media compatibility and the ability to set each pressure roller independently for various types of substrates.
Mutoh's new VerteLith RIP software is bundled with FlexiDesigner Mutoh Edition 21. VerteLith also includes Mutoh Clear Tone and CMYK technologies, two preview functions and auto-generation of named Pantone spot colours. The VJ-1628MH can output packaging prototypes, indoor/outdoor signage, banners, posters, and thermoforming prints easily and efficiently with high heat tolerance and high stretch tolerance, and produces a smooth and natural finish, preserving the texture of the print substrates. The VJ-1628MH replaces Mutoh's VJ-1627MH. Other features include:
• A blower heater that gently dries the entire printing surface. The temperature and air pressure of the heater can be set and changed.
• Automatic media-height adjustment mechanism to easily set media height to allow for printing directly on corrugated plastics, polystyrene, PVC, acrylic, polycarbonate, foam board, aluminum composite, banner material, vinyl and more.
• A built-in head-strike prevention sensor that protects the print head from collisions with the media.
• A media retainer that provides proper positioning of media for output.
• A take-up system with an optional 88-lb. unit.