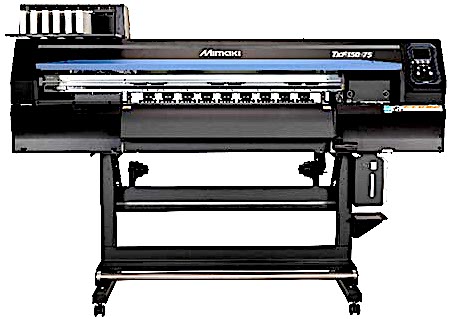 Mimaki USA, a leading manufacturer of wide-format inkjet printers and cutters, has developed its first Direct-To-Film (DTF) Printer – the TxF150-75 – scheduled for release this summer. DTF printing has become widespread in the textile and apparel industries, particularly in the wearable printing market, and is often used in T-shirt printing. With DTF printing, the design is first printed directly onto a unique transfer film. Next, the printed film is sprinkled with hot-melt powder, which is then heated and dried to form a transferable ink layer on the film. The formed ink layer is transferred to the fabric by a heat press to complete the finished product. Mimaki's TxF150-75 is an inkjet printer with a maximum print width of 80 cm (31.5") for producing DTF print-transfer sheets. The new PHT50 heat transfer pigment ink made specifically for DTF applications, consists of five colours (CMYK and white), and is scheduled to obtain Eco Passport Certification (essential for meeting the international safety standard for textile products "OEKO-TEX") by the end of March, 2023.

To overcome ink-ejection defects and white-ink clogging that have plagued previous DTF printers, Mimaki has adopted a degassing ink design that uses aluminum packs to encase the ink, along with a white-ink circulation function called MCT (Mimaki Circulation Technology). This new printer also features Mimaki's NCU (Nozzle Check Unit) and NRS (Nozzle Recovery System) technologies to support stable operation. These features enable continuous printing and increased production, said Mimaki.
Currently, silk-screen printing is widely used in the printed wearables market. This labour-intensive process requires the preparation of plates, making it unsuitable for small-lot production. Moreover, full-colour printing involves time and labour to create the plates for each colour. An alternative heat-transfer method using vinyl sheets is also commonly used, but it involves manual labour for "weeding" – manually removing unnecessary portions of the transfer before fixing the printed design on the fabric.
In recent years, there has also been growth in Direct-To-Garment (DTG) printing, which uses inkjet printers to print designs directly onto garments and fabrics. DTG printing doesn't require plates and can be used for full-colour printing, but it does require fabric pre-treatment and manual handling by the operator at each printing step. DTF printing, on the other hand, eliminates the need for plate preparation and weeding, which is difficult using conventional printing methods. Since it also enables unattended printing, DTF is rapidly being adopted as a technology that reduces both labour and costs.