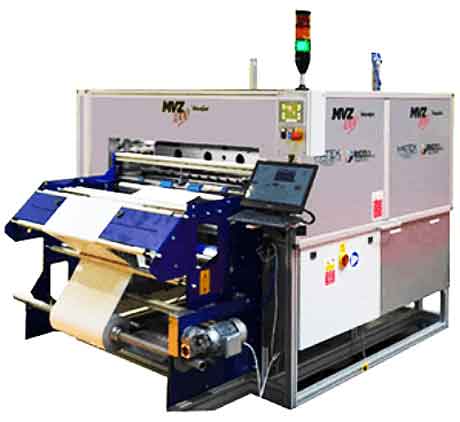 The DCC Solutions Group (Mississauga, Ontario) has launched the groundbreaking new MVZ1000 42" Roll-to-Roll (RTR) Print 4 Pack Digital Printer from Italian OEM Rigoli Srl, a world-leading manufacturer of Memjet-technology printers. The wide-format industrial printer for continuous-web production can output lengths up to 1,000 metres and beyond, and is the world's first RTR printer using the 42-inch-wide (1,067-mm-wide) Memjet engine. This makes it it ideal for everything from wide-format posters to short-run packaging applications – and everything in between. The MVZ1000 can accommodate a huge variety of printable materials compatible with water-based dye inks. It's also ideal for real-time, on-demand printing that can save production time and reduce labour and warehousing costs. The total MVZ1000 production package from the DCC Solutions Group also includes the Caldera Grand RIP+ for exceptional colour reproduction and efficient print management.
"The applications for this exceptionally versatile, industrial RTR printer are limited only by the user's imagination," said DCC Solutions Group's wide-format specialist Ralph Richter. "From stunning, full-colour banners large enough to wrap around buildings, to full-colour brochures, to multiple sizes of short-run on-demand packaging, the MVZ1000 can open up new, previously unattainable markets, providing additional revenue streams for commercial printers at an affordable price."
Other user benefits that make the MVZ1000 unique include:
• Single-pass printing with 1,600-dpi resolution
• Speeds of 9 or 18 metres per minute
• 5 fixed Memjet printheads for maximum colour quality
• Built-in technology that allows printhead maintenance without cutting media
• Water-based, odourless dye inks
• 1.2-picolitre inkjet drop size for instant drying and a wide colour gamut
• Memjet printheads filled from 2-litre cartridges with optional 10-litre bulk-ink tanks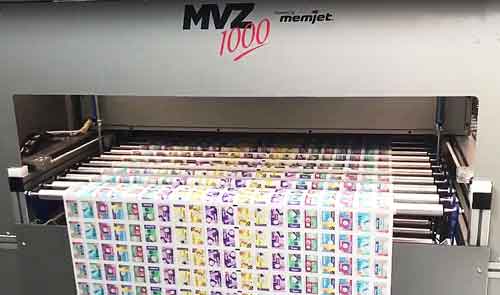 The MVZ1000 is also available in several customized configurations to fit the exact needs of specific production operations – including short-run and middle-run jobs for the packaging industry as well as other applications. These options include:
• Automatic unwinder/rewinder (for RTR mode) that can accommodate rolls with a maximum external diameter of 400/700 mm and maximum weights of 120, 500 and 700 kilograms
• A hydraulic lifting system for heavy rolls
• A direct connection to external finishing devices such as packaging, laminating, cutting units, etc. for continuous inline production
For more information, please contact The DCC Solutions Group's wide-format specialist Ralph Richter at ralph@dccltd.ca with your full contact information (including e-mail and phone number), or visit www.dccsgi.ca.