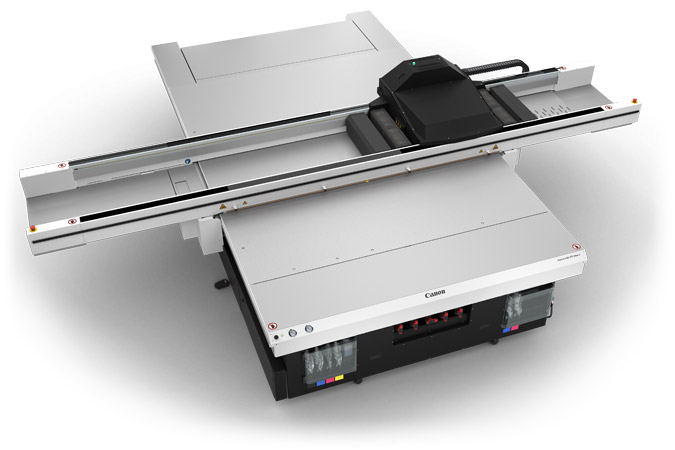 Canon's new Arizona 6100 Mark II Series, the fastest flatbeds in the OEM's Arizona range, is designed for high-volume, large-format graphics production and is the latest model in the next generation of the Arizona family. The Arizona 6100 Mark II Series are reliable, easy-to-integrate, high-volume, true flatbed flagship printers with print speeds of up to 220m²/hr (2,368ft²/hr), servicing print environments with volumes of 20,000m² (200,000ft²) up to 300,000m² (3,000,000ft²) per year. The Arizona 6100 Mark II Series consists of two models. The first is the Arizona 6100 XTS Mark II, which was designed for printers who use a more varied range of substrates, as it can print on almost any rigid media. With the XTS version, independent control of vacuum zones means that users can simultaneously handle multiple boards, unusually shaped substrates, and staged/staggered jobs for continuous printing.
The second model is the Arizona 6100 XTHF Mark II, which is supported by Arizona High-FLOW technology. This version was created for large-format graphics, print service providers and 'print factories' who specialize in packaging or print on more challenging substrates (such as porous corrugated cardboard or severely warped substrates like plywood) that may not adequately seal the vacuum area. On this model, the Arizona High-FLOW technology achieves maximum pull-down and hold-down by effectively overwhelming the substrate with a suction power 15 times stronger than the pressure exerted by the vacuum of the Arizona XTS.
The Arizona 6100 Mark II series also includes technical innovations to support customers who are looking to improve production efficiencies with automation. With Application Programming Interfaces (APIs) for accounting and automation, users can achieve easy integration with third-party systems such as management reporting systems, and create an end-to-end workflow for increased productivity through robotization, said Canon.