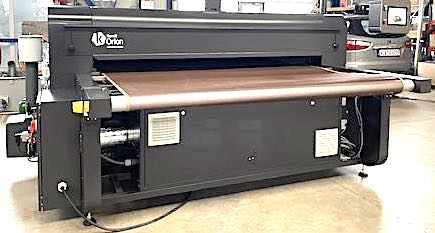 Kornit Digital, a worldwide market leader in sustainable, on-demand digital fashion and textile production technologies, has unveiled its new Smart Curing and Rapid SizeShifter solutions – designed to help customers accelerate textile production processes, streamline time-to-market, and grow their business faster with state-of-the-art "Smart Manufacturing" capabilities. Kornit Smart Curing is an intelligent and adaptive solution significantly streamlining curing processes while delivering consistently high-quality results. The introduction of Rapid SizeShifter eliminates time-consuming direct-to-garment pallet changes typically required to address disparate applications.
Kornit's new energy-efficient Smart Curing solutions include the Orion for mid-level production, and the Titan for higher-capacity volumes – both optimized for compatibility with Kornit Atlas MAX systems and based on field-proven solutions from the OEM's acquisition of Tesoma. These highly efficient curing systems sync production and finishing for an end-to-end process that reduces both energy consumption and total cost of ownership (TCO). Kornit's Rapid SizeShifter for Atlas MAX is an adjustable pallet that quickly adapts to disparate application requirements – reducing costly downtime associated with pallet changes and streamlining production for accelerated time-to-market. The technology enables print-size changeovers in seconds while increasing application versatility.

Powered in part by Tesoma technology alongside Kornit's proven digital production capabilities, Smart Curing puts production and finishing in ideal sync with an end-to-end process that scales to meet customer demand. Key attributes include:
• Optimal production flexibility by curing dark and light fabrics, t-shirts, hoodies, and sweatshirts.
• Significant reductions in power consumption and waste.
• Multiple configurations to match specific business requirements, supporting either one (Orion) or up to three (Titan) Atlas MAX systems.
Rapid SizeShifter unlocks the speed and productivity of on-demand, direct-to-garment production with a single pallet platform that addresses a wide range of applications, making the production experience much more seamless. Rapid SizeShifter delivers:
• Increased utilization by eliminating pallet replacements.
• A cost-effective solution that easily implements new sizes, products, and applications.
• On-the-fly adjustments that can address on-demand changes in seconds.
• Simplified ergonomics, expanding ease-of-use for versatile on-demand garment production.
• Fully streamlined production processes with Smart workflow software.