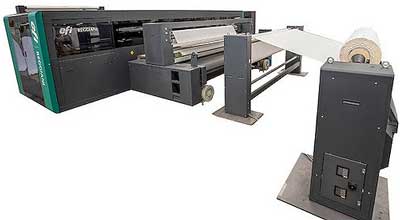 Electronics For Imaging (EFI) has launched its third new digital textile printer of 2021. The EFI Reggiani Hyper Scanning Printer is available in 1.8-metre, 2.4-metre and 3.4-metre widths. With an up to eight-colour configuration, the Hyper prints at up to 13 linear metres per minute in two-pass production mode, making it "the fastest textile scanning printer on the market," according to the EFI. The new printer is suitable for high-quality production on knitted or woven fabrics and is designed with smart technology that enables it to be integrated into Industry 4.0 projects.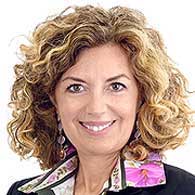 "Our track record of accelerated innovation continues, as we make good on our promises to deliver a third new textile printer this year," said EFI Reggiani Senior Vice President and General Manager Adele Genoni. "And, with the new Hyper model, our R&D team has outdone itself, bringing even more innovation to digital textile printing despite the constraints of the pandemic. We've learned from our customers how productivity and sustainability are key drivers to support their business through the digital transformation."
The new EFI Reggiani Hyper targets the industrial high-speed segment of the multi-pass textile printing sector. Not only is the Hyper the fastest multi-pass printer that EFI Reggiani has ever developed, but "the fastest of its kind in the market offering extraordinary printing quality with unmatched productivity." The Hyper's carriage with 72 printheads can print two passes with production quality at speeds up to 13 metres per minute for a 1.5-metre-wide roll, or up to 10 metres per minute for a 3-metre-wide roll – all with 600-dpi native resolution and full variable drop size. On a 3.4-metre Reggiani Hyper Printer, users can print a pair of 1.5-metre-wide rolls in parallel, delivering a total throughput of up to 20 metres per minute, which "is comparable to some single-pass printers currently in the market," according to the OEM.
The printer uses EFI Reggiani genuine inks with high-quality formulas developed to ensure the best performance in terms of runnability and longer printhead life. The hyper also yields exceptional colour depth and brightness, as well as excellent fastness properties. "We are especially excited about filling out our portfolio with a very dependable, very fast printer that delivers greater throughput than other scanning printers," said Genoni. "Thanks to a unique design for its 72 printheads – which recirculates ink up to the heads' nozzle plate – and the legacy EFI Reggiani continuous ink recirculation system, Hyper is also a champion for uptime and reliability, maximizing printer availability for production with excellent printing results. With Hyper, textile producers will benefit from a truly remarkable production solution that builds on EFI Reggiani's many years of experience and innovation in textile printing," she added."