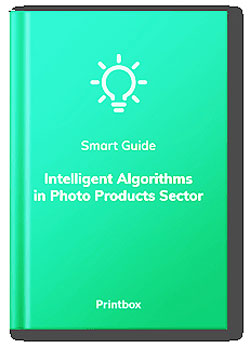 Printbox (Kraków, Poland), a global Software as a Service (SaaS) company providing photo-product software to maximize sales generation, recently conducted live tests with two of its biggest customers to analyze the impact of smart algorithms and Artificial Intelligence (AI) on conversion and project creation time. The results, along with the market background and practical aspects of AI application in business, are presented in the company's latest publication: Smart Guide: Intelligent Algorithms in Photo Products Sector. The new approach aims to get the customer to move from browsing to buying as quickly as possible – "but in the photo products industry, it's not that easy," Printbox added.
The traditional approach to designing photo books and albums results in the loss of many potential customers who quit the service even before starting the project. Most people are convinced that they'll have to spend a lot of time and work in this process. "That's why AI is the future of creating photo books," the company pointed out. Software solutions such as Neural Networks, Machine Learning and Machine Vision are used to process large amounts of data contained in user-uploaded photos. They identify the content of the images and combine all items into outstanding photo books in just seconds. In response to these market needs, Printbox has developed Smart Creation, a proprietary solution that provides intelligent automation for photo book creation. The product uses AI in TensorFlow with various Convolutional & Siamese Neural Networks, paired with classical image processing algorithms. Users can upload their photos to the editor, and intelligent algorithms will do the tedious work for them. The Smart Creation analyzes each of the given images, detects the subject of the photos, and chooses the best ones to create a coherent story.

The technology was officially released in October of 2020 and the first Printbox customers started using it at beginning of 2021. Since then, Printbox, with the cooperation of two top clients, were conducting live tests with real-store users. The purpose of the tests was to examine the impact of AI on conversion and project creation time by users in the client's environment. The results and conclusions of the research on AI technology have been published in this latest guide.