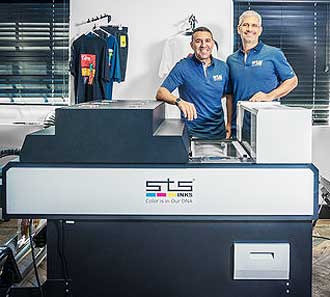 STS Inks (Boca Raton, Florida), a global leader in the wide-format, industrial and household inkjet markets, has launched its groundbreaking new Direct-To-Film (DTF) Modular System. Developed in partnership with OEM Mutoh, the centrepiece of the new system is a compact STS VJ-628D Printer that can fit onto a tabletop or rolling stand in a print shop. "The exclusive STS Inks system is designed to be the most cost-effective and hassle-free solution to simplify the process of quickly creating custom t-shirts and apparel," said the company. DTF has several advantages over traditional DTG (Direct-To-Garment) technology, which is limited to cotton pre-treated fabrics, and wears much faster. DTF is capable of printing onto non-treated cotton, silk, polyester, denim, nylon, leather, 50/50 blends and more. It works equally well on white and dark textiles and allows users to choose either a matte or glossy finish. Plus, DTF doesn't require cutting or weeding, creates crisp and defined edges and images, doesn't require advanced technical printing knowledge, and produces less waste.
"With the debut of our modular system, STS Inks has monumentally improved the process of DTF printing, especially for new entrants in the custom apparel marketplace and existing firms that are looking to expand their product line," said Shahar Turgeman, who founded STS Inks in 1999. "We've given each of the essential DTF components a smaller footprint, deployed user-friendly software bundled with the highest-quality supplies, and are offering the STS DTF System at a lower price with improved performance than anything available in the market today."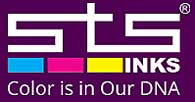 STS Inks' DTF System begins with utilizing the STS VJ-628D Printer to print logos and/or artwork onto a single-sided, coated PET Film. STS PET provides optimal printer roller traction with minimal static, for a high quality printed image without background artifacts. It's manufactured to withstand the high temperatures and pressures of a heat press, and is compatible with any desktop or large-format DTF printer. The film is then used to transfer the printed image onto textiles using a lightweight powder adhesive (applied via the STS Automatic TPU Adhesive Powder Shaker) that distributes the adhesive evenly across the artwork and enables the transfer process. STS Inks also offers hot-melt adhesive powder that's specially formulated to provide excellent bonding and flexibility properties – withstanding over 40 washes with maximum coverage, according to the company. Finally, the garment or fabric is placed in the STS Transfer Film Curing Oven, which is capable of curing film up to 13" x 19" with a very small (23" x 6.6" x 15.7") footprint. Delivering a curing temperature up to 150 C (302 F) with a 110-volt power supply, the oven has a digital timer control for TPU powder curing that also sounds an alarm upon completion.