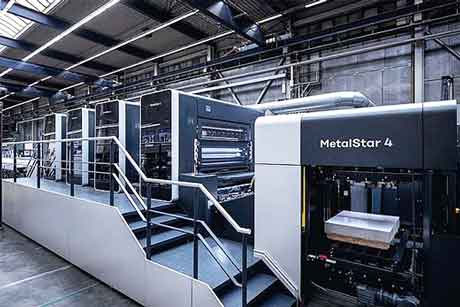 Characterized by the OEM as "the new performance benchmark in metal decorating" is Koenig & Bauer's new MetalStar 4 Press. It offers new functions and improvements in the feeder, state-of-the-art measuring technology and new functions for monitoring production and enhancing ergonomics. What remains unchanged is proven MetalStar technology, such as the short and dynamic inking and dampening unit and high-precision register printing due to the sheet travel in the gripper closure, as well as the extensive automation features that reduce make-ready times to a minimum.
Some of the most notable innovations can be found at the feeder. Metal-printing upgrades such as new sensors, newly designed blowpipes and scrapers, and adjustments to the infeed table, increase the reliability of the feeder. Even with challenging materials, the feeder is extremely reliable. It features a new touchpanel on which the air setting can be made and stored for each job. For repeat jobs, the last setting can be loaded and production started immediately.
The inline colour measurement and control system MetalControl, which is available for the MetalStar 4, measures the ink densities on each colour patch in the print-control strip, or on individual colour patches, and regulates the ink zones automatically every 10 sheets. This ensures that the specified target densities are always achieved and maintained within the print run – independent of the operator or the time of day. In addition, MetalControl supports the operator in colour set-up for the print job. It can set up the target densities automatically in one print run utilizing a 'sandwich' process. Alternatively, MetalControl can also be used to print individual runs as usual during set-up. The technology then makes a setting suggestion after each print run.

The new ErgoTronic console is the heart of the MetalStar 4. Operation is intuitive and all settings are made via a 23" touchscreen. The console can be equipped with a 75" wall screen on which the measuring results of MetalControl and the individual zone openings in each inking unit are displayed. A live image from one of the observation cameras mounted at specific points on the line can also be displayed. This makes it easy to monitor critical positions live from the ErgoTronic console, and intervene if necessary.
In terms of automation, features such as parallel washing of the blanket and impression cylinder with CleanTronic Synchro, or parallel washing of the inking unit during blanket washing with DriveTronic SRW (Simultaneous Roller Washing), guarantee "the shortest make-ready times in metal decorating." The fully automatic plate change (FAPC) is now much faster and has been equipped with a new infeed system that enhances stability. Finally, each MetalStar 4 can be customized to the individual needs of the user and the application – from special equipment packages for UV and UV-LED printing, to a wide range of inline coating options, to the sheet-handling modules and Koenig & Bauer drying ovens.