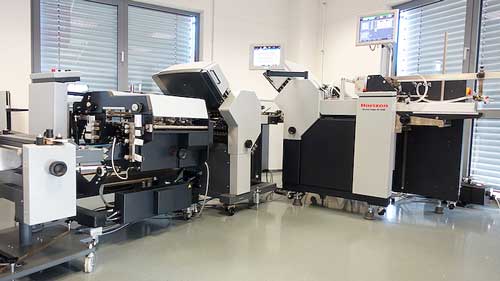 Standard Finishing Systems (Andover, MA), a leading supplier of post-press and paper-handling solutions, recently added to its line of automated folding technology with the Standard Horizon AF-408F 8-pocket folding machine. Designed to better accommodate short runs and fast changeovers between different jobs, the new folder is especially ideal for the pharmaceutical sector where make-ready times are often high due to complex folds. With a minimum fold length of only 18 mm, it's particularly suitable for the flexible and fully automatic production of very small folds, such as package inserts.
Fully automatic, the AF-408F "sets new standards and ensures high productivity and quality," said the OEM. Settings for its feeder, infeed guides, buckle plates and folding rollers can all be made automatically within a few seconds after selecting the type of fold desired on the touchscreen. A comprehensive job memory ensures maximum time saving and virtually zero waste for repeat jobs. Should a correction be necessary, a patented quick-correction button allows all buckle plates to be corrected at once in the case of multiple folds. In addition, the positions of the required creasing tools can also be set automatically. The integrated Score Navigator calculates the creases depending on the type of fold, and positions the tools with an accuracy of 1/10th of a millimetre.

Modularly expandable
The AF-408F can also be expanded with a fully automatic buckle plate folder with 6 buckle plates, or a KTU-40 mobile knife folder that was specially developed for very small folds. In this way, further folds can be made in a cross-fold or a parallel fold if the material is already too thick for the buckle plates. For example, products with a minimum format of up to 20 x 30 mm and a maximum product thickness of up to 6 mm can also be produced. To further enhance folding quality and accuracy, the AF-408F can be equipped with a water-scoring system.
For maximum production reliability in the pharmaceutical sector, it also offers the option of integrating a camera system for barcode monitoring or print-image recognition. Defective sheets are automatically ejected during production by a Reject Gate. The use of sheet presses and output with vertical sheet delivery ensure convenient handling of the smallest formats. The addition of a gluing unit enables the products to be sealed with the aid of a gluing point. Alternatively, a closure labeller can be connected to seal the products with a perforated label.