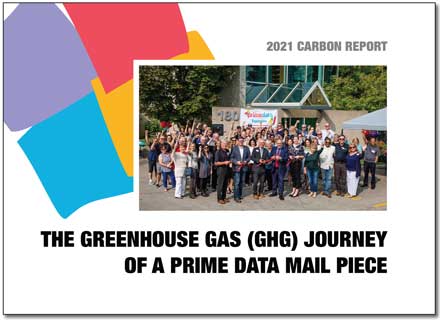 A recent study of greenhouse gas emissions in the direct-mail industry, commissioned by Steve Falk, President and CEO of Prime Data, uncovers the sources of these emissions by tracing the different stages of the creation of a mailing piece – from a tree in the forest to your mailbox. Understanding the emissions at different stages of the direct-mail process can lead to more informed decisions regarding their reduction, the company said. Prime Data (Aurora, Ontario), an award-winning direct mail and marketing company with over 20 years' experience, offers complete end-to-end solutions – including strategy, tactics, mailing and production – to final printing and fulfillment.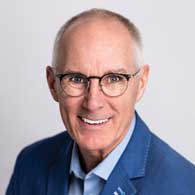 "I don't think I'm alone when I say that I'm having trouble taking action on climate change, because I don't understand how my life and work really affect it," Falk said. "I commissioned this study and had it focus on the core work we do, which is a simple letter with a reply envelope, inside an envelope, often used by charitable organizations to fundraise. We produce millions of these each year and I thought that many of these organizations would also be curious about the outcomes of the study." The Prime Data Sustainability Study found that a typical direct mail piece weighing 20 grams generates an average greenhouse gas footprint of 205 grams. To put this in perspective, a half-cent would pay for offset credits to make this mailing piece "carbon neutral."
The journey of a direct mail piece produced and mailed in Canada by Prime Data, can be divided into three sections: Paper Production, Prime Data production activities, and Canada Post delivery. In the study, paper accounted for 85.5% of the greenhouse gas footprint per mail piece sent by Prime Data, followed by Canada Post delivery at 10.5% and Prime Data production activities at 4%. For this reason the greatest impact can be had by making more informed decisions around the type of paper used for direct mail. The Prime Data operations footprint consisted mainly of electricity (4.3%), delivery (20.2%), the employee commute (24.3%), and natural gas heat of the facility (51.2%).

Some immediate actions that Prime Data is currently looking at to further reduce its own carbon footprint in the direct mail industry include:
• Paper Selection – encourage its customers to review paper options
• Energy Efficiency in the warehouse – LED lighting installation, implementing dock door seals and air curtains
• Commute times for employees – working online has significantly reduced emissions from employee commutes, and using a hybrid work model moving forward
• Offset credits – exploring more options to offset emissions
Falk is an active member of the Sustainable Mail Group, a community of mailing industry leaders with similar interests. Its mission is to be stewards of the environment, working within the direct mail industry to offer continuous thought leadership and sustainable solutions that meet consumer demands for responsible mail. "Our research is not the final word, but an opening of the conversation offering perspectives into the various sources of greenhouse gases in the direct-mail industry," Falk added. "We hope to inspire dialogue on this subject and enhance our collective understanding of these issues."