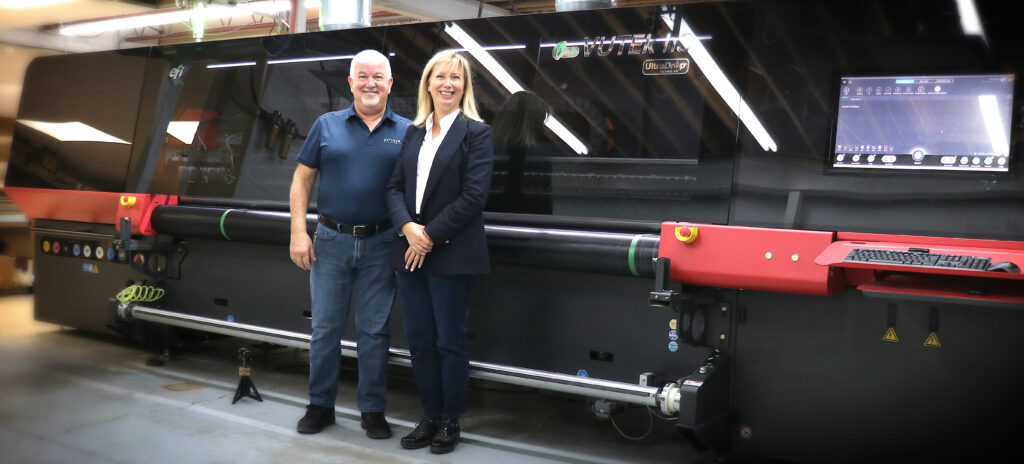 For 27 years, Optimum Graphiques (Laval, Quebec) has succeeded in carving out a solid position in the Canadian wide-format printing industry because of the company's vision, its constant evolution, its technologically advanced equipment, and its desire to build lasting relationships with customers and employees alike. Recently, the display graphics leader invested in an EFI VUTEk h3 Hybrid Inkjet LED Printer from Electronics For Imaging, to boost its productivity, and for its exceptional print quality (1,200 dpi). Most of the work at Optimum Graphiques involves global management of POP marketing campaigns for major franchises, store chains, hotels, restaurants and other types of businesses. The company delivers expert consulting, graphic design, and production for its clients' POP materials – from management of online orders, printing, and customized kitting, to executing the shipments of customized kits across customers' many locations.
"We've been using VUTEk pretty much since day one," said Geneviève Prévost, President of Optimum Graphiques. " My partner Richard Spellman – one of the company's founders and someone who's heavily involved in ensuring the continued modernization of our equipment – started our relationship with VUTEk, and we've remained loyal ever since. The technology of the EFI printers has kept up with the times over the years and kept us perfectly in tune with our markets. They also offer total reliability." Hailing from a family that owned a commercial printing company, Prévost developed a passion for wide-format printing, and the creativity possible in display graphics digital printing. She joined Optimum Graphiques as a partner in 2016, and then became President of the 25-employee business. Their new printer fits well in advancing the staff's focus and dedication to wide-format management and production, location layout planning, and POP campaign logistics.

"We offer a turnkey service – from graphic design to installation – and our mission is to ensure the quality of the final proof for our customers while maximizing their return on investment," Prévost added. "Attention to detail, creativity, research into solutions, and ingenious processes are what make us stand out in the market. This positioning requires two things: a flexible team able to offer advice and to invent intelligent solutions that will always match a customer's budget, and equipment that's flexible, versatile, and extremely reliable."
EFI's 3.2-metre (126-inch) wide VUTEk flatbed/roll-to-roll hybrid UV LED inkjet printer includes 8 colours in a CMYK x 2 configuration, plus two channels of white. It also features EFI UltraDrop Technology and native 7-picolitre grayscale printheads that deliver high apparent resolution and high-definition print quality in addition to outstanding smoothness in shadows, gradients, and transitions, as well as superb text quality down to 3-point sizes. Its advanced UV LED curing technology delivers important ecological advantages, significantly reducing the amount of energy consumed compared to traditional UV or latex printers, said the OEM.