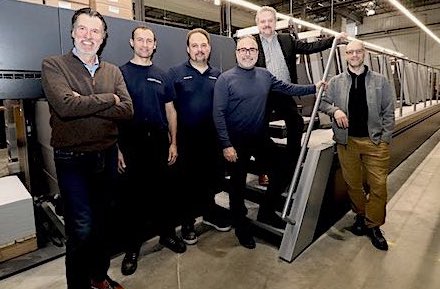 Marquis, the largest book manufacturer in Canada, recently installed a new Speedmaster XL 106-8P Offset Press from Heidelberg at its Montmagny, Quebec location. Founded in 1937, Marquis has drastically transformed from its humble origins (printing and selling books from the back of a bus) to a $150,000,000 business with 600 employees across 3 production facilities in Louiseville and Montmagny, Quebec, and Toronto, Ontario. Its new XL 106, equipped with LED UV, inline CutStar sheeter, and new Plate-to-Gallery Logistics, is part of the company's greater plan for continued growth that aims to double its business within the next 10 years!
Marquis installed its XL 106 with Heidelberg's new Plate-to-Gallery Logistics – the first of its kind in North America. A lift attached to the press, Plate-to-Gallery makes plate transport from the floor to the press easier and more efficient – especially on elevated machines. While the new lift will cut down on time, it will also ease labour demands. With hundreds of plate changes every day, the press helper will now be able to stay on the catwalk and remove the plates from the lift. Marquis believes that the new press, in combination with many of its efficiency-boosting peripherals, will also help to attract younger talent to the company. "We looked at how this press would help us – not just now, but down the road," said Serge Loubier, President of Marquis.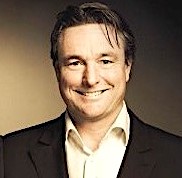 Marquis produces digital, offset, web, inkjet, case-bound, perfect-bound, and spiral-bound books and brochures across its various locations. Despite its growth over the years, the company continues to put value on building strong relationships with both its customers and its vendors. "We keep our delivery and quality promises," Loubier added, "and only partner with vendors that do the same." Keeping these promises is, in part, why Marquis decided to replace its two aging presses at Montmagny with a new Heidelberg Speedmaster XL 106.
With speeds of 18,000 sheets per hour, fast makereadies via Heidelberg's new intelligent User Experience (UX), autonomous Push-to-Stop technology, and AutoPlate Pro automatic plate-changing, Marquis' new Speedmaster XL 106 is a significant upgrade in speed and technology over the two older presses the company is replacing. Heidelberg UX, together with an array of assistance systems, "provides the best possible support for operators at the Prinect Press Center XL 3 Control Station and at the press itself," said the OEM. Additionally, to ensure that makeready times are kept short, the patented Intellistart 3 system automatically determines the makeready processes required for the jobs to be produced.

Marquis estimates that the new XL 106 will double current capacity in Montmagny and cut its current makeready times up to ten-fold, which is critical in book production. Additional time will be saved with the press's new inline CutStar sheeter and LED UV technology, which will speed up cure times for the uncoated stocks Marquis uses to print its high-end books. With faster cure times, sheets can be folded within 5 minutes of printing on a Stahlfolder TH 82 that the company installed earlier this year. With the PFX Shingle-Feeder, the Stahlfolder folds at up to 16,000 sheets per hour. "Faster and better curing, together with the Stahlfolder's speed, is going to make quite a difference in our turnaround times," Loubier added. "We're improving many production aspects while gaining more capacity along the way."