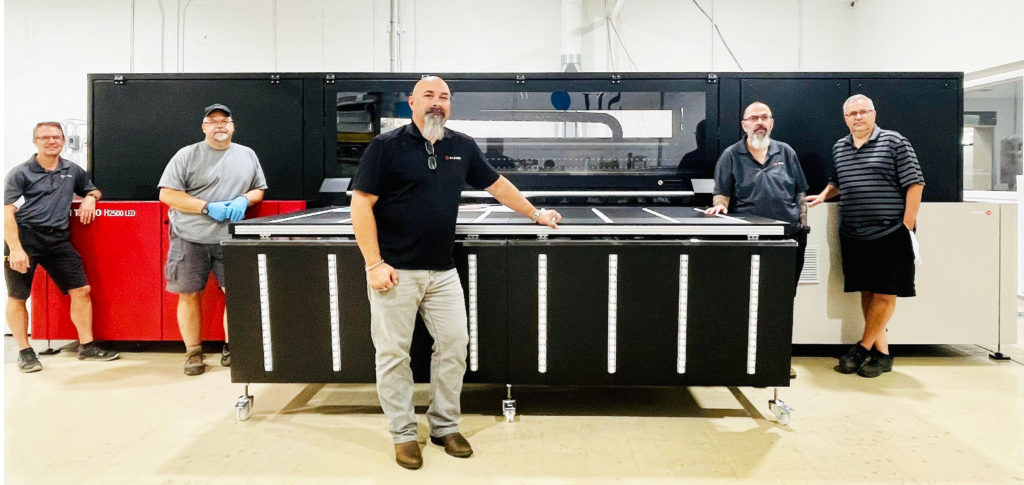 Albion Screen Printing (Gatineau, Quebec), a long-standing Agfa customer and a leader in the Canadian wide-format print market for over 43 years, recently installed the Jeti Tauro H2500 LED wide-format hybrid inkjet printer from Agfa Canada, to replace its current flatbed printer. "Our plan was to replace our flatbed with another more trendy and better-performing flatbed," said Albion Screen Printing's owner Alain Deschamps. When we saw the capabilities of Agfa's Jeti Tauro H2500, a 98-inch-wide (2.5-metre-wide) hybrid press, we knew that all our requirements would be met. Agfa's Jeti Tauro H2500 will allow us to move to the next level of productivity and quality," he added.
Albion specializes in a huge array of wide-format products – including banners, posters, signage, fleet graphics, window/wall decorations, POP/POS displays, decals, promotional products, nameplates and tags. Albion also provides a wide range of client services – from screen and digital printing, die cutting, distribution packaging and more – to rapid and accurate estimating, on-time shipments and reliable installations. The company regularly helps clients by utilizing their expertise as consultants on a variety of issues – in particular to meet quality, performance, technical, durability and other related challenges.

Agfa's Jeti Tauro H2500 LED is a large-format, high-production UV inkjet hybrid press and recipient of several industry awards for print quality. It relies on UV LED curing to produce vivid 6-colour (plus white or white and primer) prints, while utilizing exceptional productivity and cutting-edge automation. A robust hybrid UV inkjet printer with an integrated roll-to-roll system, this 'workhorse' printer features continuous and automated feeding of rigid and flexible media. Its possibilities for high-end sign and display printing are almost endless – UV LED curing with prints of up to 2.54 metres wide, print speeds up to 275 m2/hr., and a huge range of applications. The master Roll-To-Roll (RTR) option is ideal for long-run RTR jobs. The printer can also be used for roll-to-sheet printing with "hardly any material waste." Gloss and satin modes are available for an even larger colour gamut, as well as enhanced spot-colour reproduction without the loss of image quality or extra ink usage.