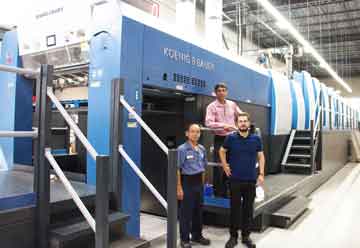 Albany Packaging (Markham, Ontario), a Canadian leader in the design, manufacture and printing of high quality folding paperboard cartons, recently installed a Koenig & Bauer Rapida 145 7-colour press (yielding 60% additional press productivity), plus an AllPro 145 Folder/Gluer, from Koenig & Bauer Canada. This major investment in state-of-the-art large-format and finishing equipment has already increased overall plant productivity by 26% this year. Albany's Custom Print Division also experienced 40% growth in its customer base.
Since it was founded 1947, Albany Packaging has provided the highest quality folding-paperboard products to leading grocers, restaurants, convenience stores, apparel and retailers across North America. For more than 70 years, the shop has specialized in the sheeting, printing, die-cutting, windowing and gluing of paperboard. As business recently skyrocketed, its solution to increase capacity was to install a new Koenig & Bauer Rapida 145 7-colour press along with a Koenig & Bauer AllPro 145 Folder/Gluer. Since it went live, the new press has provided a 60% increase in press productivity and has reduced both set-up and project-turnaround times.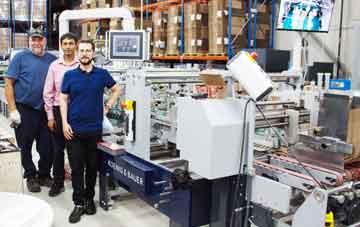 "We believe that our commitment to manufacturing efficiency is the driver behind our continual success," said Engelberg. "Being one of the few packaging manufacturers that provides large-format production in Canada, we are fortunate enough to have the capabilities to adapt to ever-changing market trends and meet customer-specific requests. Our investments in large-format equipment, such as our new Koenig & Bauer Rapida 145 7-colour press, Koenig & Bauer AllPro 145 Folder/Gluer dual-lane window machines and tray-former, have increased overall plant productivity by 26% this year."
Albany's 87,000-squre-foot facility in Markham, Ontario houses over 50 employees. Its customer base, which is situated throughout North America, is comprised of 50% grocery accounts, 40% in the custom-print market, 8% in the food-service industry (specifically restaurants and bakeries), and 2% in the apparel market. "We've also experienced tremendous growth in our Custom Print Division," Engelberg added. "With decades of experience, we work with our customers to design and build custom boxes for bakery, cupcake, donuts and other food-packaging items like food trays and additional packaging supplies that suit their needs. Having the new Rapida 145 allows us to efficiently produce that work, which calls for shorter run lengths with more creative designs for particular holidays and other special work."
Not only does the new press provide Albany's clients with high print quality, it strengthens Albany's reputation in the marketplace as a provider with fast make-ready times, and can easily produce consistent colour-matched packaging. Its notable customers include national grocers such as Sobeys, Longo's and Metro, restaurants and convenience stores such as Boston Pizza and 7-Eleven, and leading retailers like Dick's Sporting Goods.
Sustainability a priority
Sustainable packaging is also a key differentiator for the company. "As consumers continue to seek sustainable and eco-friendly packaging solutions, we've placed our efforts into forming relationships with paperboard suppliers that value and echo these environmental concerns," Engelberg pointed out. "As for production, we always make sure that our products are made of recyclable, high-density paperboard – allowing for improved durability and performance. Our goal is to provide our customers with a positive experience throughout the entire process and create the highest-quality designs for them. When we deliver on those two-fold areas, we have succeeded in conveying our friendly, efficient and reliable service and retaining another happy customer. That's how we measure our company's success," he added.