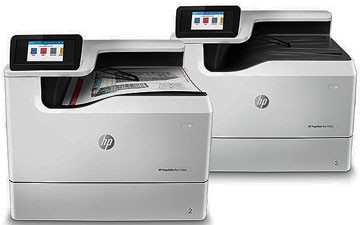 According to a recent report by Kaitlin Shaw, Randy Dazo and Jamie Bsales of leading print market research leader Keypoint Intelligence, HP has decided to discontinue sales of its PageWide office products (A3 and A4), which use a wide inkjet array instead of a laser engine. Keypoint's e-newsletter LabLine said this decision was made because HP plans to focus its future investments on expanding its LaserJet offerings, and on serving the needs of hybrid workplace environments – from SMBs to larger enterprises. HP will, however, continue investing in its PageWide technology in the large-format, commercial and industrial print areas. HP will also continue to support the installed base of PageWide A3 and A4 devices for a period of 5 years, including parts and supplies.
According to HP, the differences between office laser and inkjet technologies have been significantly decreasing when it comes to device footprint, acquisition cost, ongoing running costs and energy consumption. Keypoint said that HP's investment in LaserJet technology innovations over the past decade have driven improvements in these areas. According to HP, these improvements include:
• Up to a 20% reduction in hardware cost, weight and size
• Nearly a 250% increase in cartridge capacity
• Up to a 30% reduction in service costs
• An 87% reduction in energy consumption
"With HP's decision, Epson will be the only major print manufacturer left promoting office-based, line-head inkjet technologies," Keypoint added.