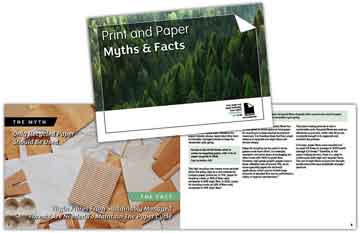 When it comes to the sustainability of print and paper, it's important to separate facts from myths. Two Sides, our industry's print and paper advocacy group, has just released a free publication, Print and Paper Myths & Facts. It contains updated facts on paper and the environment – from forest growth and paper's low energy consumption, to the high recycling rate of paper products. It also explores the European paper industry – a world leader when it comes to sustainably sourced raw materials, renewable energy and recycling rates. Yet, said Two Sides, the myths surrounding paper are still prevalent among consumers.
For example, a 2021 survey by Two Sides revealed that 64% of European consumers believe their forests are shrinking, when in fact they've been growing by an area equivalent to 1,500 soccer fields every day. Europe's forests also support the livelihoods of millions of people. They're vital for soil, conservation, biodiversity, energy supply and water protection. It's no different for our vast forests here in Canada. Often the source of these misconceptions is the abundance of misleading information about paper and its impact on the environment. Paper has been the preferred communications medium for over 2,000 years. Even in today's digital world, it continues to be highly effective. And when produced, used and disposed of effectively, is inherently sustainable.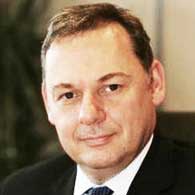 "Two Sides seeks to ensure that by fostering a better understanding of our industry's environmental credentials, print and paper remains an essential medium for many generations to come," said Jonathan Tame, Managing Director of Two Sides UK. "The new booklet explains to brands, retailers and consumers, 9 powerful reasons that show just how sustainable paper products really are." For more information about the sustainable attributes of print and paper, and to download your free digital copy of the new booklet, please visit: https://www.twosides.info/the-myths-and-facts-booklet/.