Unless you've been vacationing on Pluto (which at minus 280 degrees Fahrenheit is almost as cold as some places in Canada), you're already well aware of the top story of 2021. The first cases of COVID-19 hit our shores in early March of 2020, and within weeks, confusion, personal angst and major business disruptions began. Stress levels skyrocketed and advice began pouring in from healthcare experts and business gurus on how to navigate what was going to be an extremely exhausting year. The pandemic immediately changed the way we communicated with family, friends and clients. In-person tradeshows and conferences were cancelled in favour of online events, which posed their own set of challenges. Adapt and survive became the mantra of a precarious new era of doing business.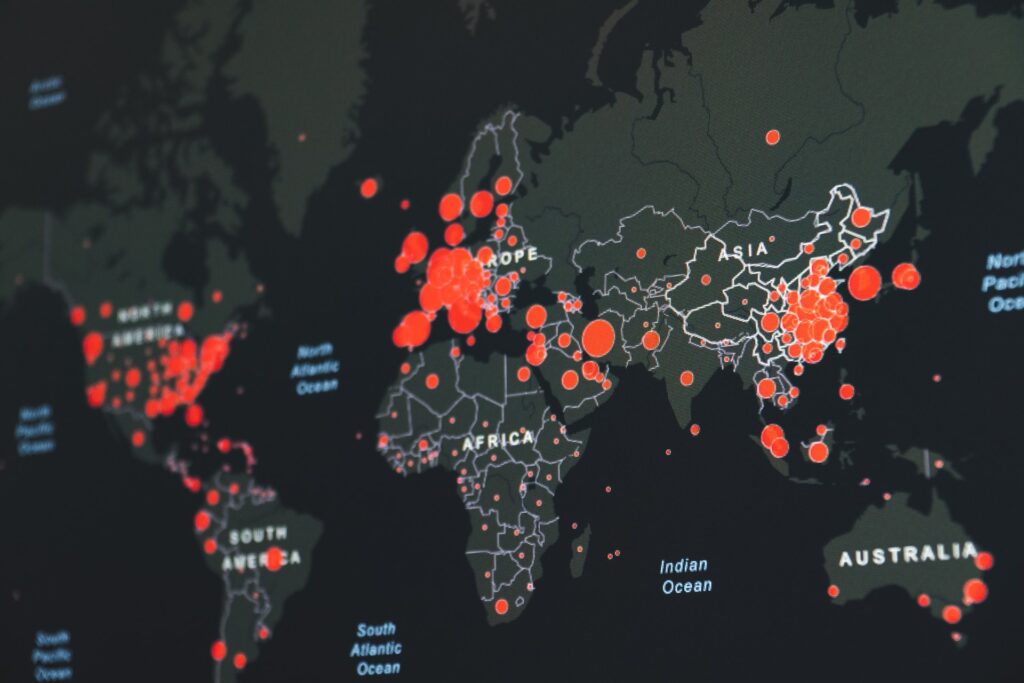 As the pandemic spread worldwide, diversification was paramount. Many shops repurposed their production lines to produce PPE (personal protective equipment) and wide-format products such as healthcare protocol posters, wall and floor graphics, and even work-cubicle partitions. In fact, some printers actually experienced an increase in online business, while others adopted some very creative sales methods. Overall, the printing industry did its best to stay relevant, while individual shops showed remarkable ingenuity to stay afloat. Still, difficult challenges remain on the horizon. The good news: industry experts are confident that everything will eventually get back to normal. The bad news: the pandemic, complete with two new variants, could drag on for another two or three years. With this as a backdrop, there were still plenty of positive stories that made headlines in 2021. Here are my personal selections based on overall industry impact, uniqueness, Canadian content, and other factors:
JANUARY
• Printed folding carton specialist Netpak Packaging (Anjou, QC) invested over $2 million in new automated technology in its finishing department, and eventually increased its production capacity by over 30%. Major technology additions included a Bobst MasterFold A2 110 Folder-Gluer and a fully integrated Bobst Spanthera 106LER Diecutter.
• After reporting 30% sales growth, Rotoflex Canada (Mississauga, ON) said it will be moving its entire production operation to a new, more efficient building just a few miles away. The move resulted from the increased demand the Mark Andy company had seen over the past couple of years.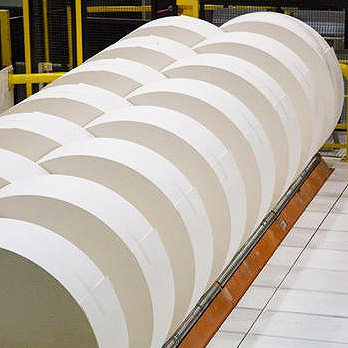 • Lux Research (Boston, MA) revealed that the paper industry must retool to avoid billions in expected losses. It said that diversification and innovation are essential for the pulp and paper industry to succeed in emerging packaging applications. Lux pointed to digital media and paperless communications that have caused a major decline in the pulp and paper industry over the past decade.
• The Sign Association of Canada cancelled its annual event, Sign Expo Canada 2021, set to take place September 9-11 at The International Centre (Hall 5) in Mississauga, Ontario. Dates for the 2022 tradeshow will be announced shortly.
• U.S.-based Loftware and NiceLabel joined forces to become the largest labeling company in the world with over 400 employees globally. The deal followed an impressive year of double-digit growth for both companies.
FEBRUARY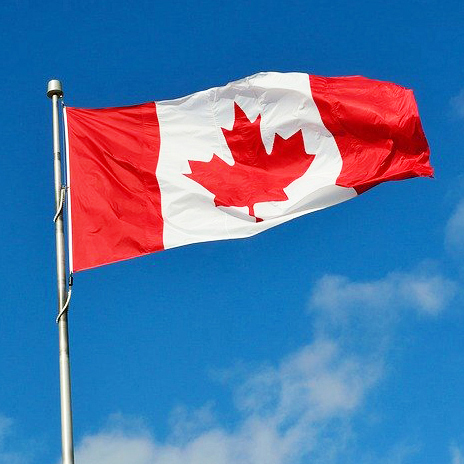 • The federal government announced that The Canada Recovery Benefit (CRB), the Canada Recovery Sickness Benefit (CRSB), the Canada Recovery Caregiving Benefit (CRCB) and Employment Insurance (EI) all saw extensions in the number of weeks eligible Canadians could receive them, as soon as the legislation was approved by Parliament. The Canada Recovery Benefit (CRB) replaced the federal government's Canada Economic Recovery Benefit (CERB) program that provided $1,000 over a two-week period (less tax) to those who don't qualify for EI, with payouts slightly less that CERB.
• Canadian Print Scholarships established the Don Gain Scholarship named in memory of the print industry veteran who passed away at 71 on December 31, 2020. A fundraising campaign began and Willow Printing Group, CJ Graphics, Advocate Printing and Publishing, Connecting for Results, and Frank's Maintenance Products had already made contributions. The ultimate goal was to raise $30,000.
• Strategic consulting firm Connecting for Results launched Print Wisdom, a career mentorship program in collaboration with Toronto's Ryerson University. Working with the school's Graphics Communications Management (GCM) program, 3rd-year and 4th-year students received career advice and resource/networking opportunities.
• The 4th and final drupa preview day was held online February 23. Key industry OEMs such as Bobst, Heidelberg and Konica Minolta took part. With its three areas (Exhibition Space, Conference Area and Networking Plaza), the preview gave visitors an idea what to expect at the virtual.drupa event April 20 – 23, 2021.
MARCH
• Cameron Advertising (Scarborough, ON) installed the first Jeti Tauro H3300 UHS (Ultra High Speed) wide-format flatbed inkjet printer in North America – Agfa's fastest UV LED Hybrid Printer to date with 30% faster speeds than previous models. This latest Jeti Tauro prints on rigid and roll media up to 3.3 metres wide in 4- or 6-colours at speeds up to 600 m2/hr.
• Paragraph, one of the largest printing companies in Quebec, installed the first HP Indigo 12000 Press in the province. The press also included the new HP Indigo 15K value pack featuring thick-substrate support up to 24-pt. and premium white ink – making it the first of its kind in eastern Canada.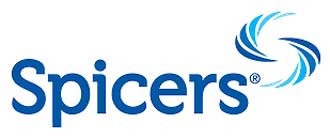 • Spicers announced that all of its divisions will operate under a single brand nationwide. Previously, Shippers Supply and All Graphic Supplies operated as separate entities since being acquired by Spicers in 2017 and 2020 respectively. Spicers Canada is based in Vaughan, Ontario and operates from 27 regional centres across the country.
• ePac Flexible Packaging (Austin, TX) announced its plans to open a second Canadian production facility in the Greater Toronto Area (GTA). The company had already begun accepting orders, with fulfillment handled by ePac Vancouver, until the Toronto facility opened in June of 2021.
• Pantone added 315 new colours to its expanding repertoire aimed at fashion and fashion-related markets.
APRIL

• The first virtual.drupa saw 212 exhibitors from 35 countries present their products in online showrooms. More than 119 live web sessions and 113 presentations focused on key industry issues and trends. The online event garnered about 600,000 page views and 45,000 unique visits. Visitors from 155 countries attended.
• Fort Dearborn, a custom label and packaging company with 20 locations across the U.S., reached nearly 82 million impressions on its Heidelberg Speedmaster XL 106-8+L in 2020 as demand at grocery stores due to COVID-19 surged. It printed primarily cut-and-stack labels. It credited its record-breaking performance to the advanced technology of the press, its increased business in 2020, and its teamwork mentality.
• Pollard Banknote (Winnipeg) signed a 10-year ticket-printing contract with Ontario Lottery and Gaming (OLG), with more than 2 billion tickets expected to be printed over the life of the agreement. Pollard's services have enabled OLG to nearly double the revenue of its instant lottery business since becoming its primary printer in 2007.
• Epson announced a milestone. A single SurePress L-6534VW Digital Label Press produced 1.99 million ft2 in one month, 5.5 million ft2 in one quarter and 13.8 million ft2 over the nine months since it was installed. The location was not revealed.
MAY
• The federal government extended the CRB to September 25, to 50 weeks from 38 weeks. The Canada Recovery Caregiving Benefit was extended for an additional four weeks, to a maximum of 42 weeks. The Canada Emergency Wage Subsidy (CEWS) was extended to September 25. Ottawa also extended the Canada Emergency Rent Subsidy (CERS) and its 25% top-up (called Lockdown Support) until September 25. A new Canada Recovery Hiring Program (CRHR) provided a subsidy to employers that continued to experience a drop in revenue due to COVID-19.
• CCL Industries installed the world's first HP Indigo 35K Digital Label Press at its Label Healthcare facility in Montreal. The new B2 sheetfed press for cartons and specialty boards offers one-pass printing, security inks and variable-data printing for track-and-trace solutions and security elements. It was the 100th press added to CCL's global fleet of HP Indigo digital label presses at over 60 locations worldwide.
JUNE
European publishing printer Wilco (Amersfoort, The Netherlands) invested in 11 Heidelberg Speedmaster XL 106 Presses for a massive boost in productivity. The landmark installation included various press configurations, as well as four models just for the Speedmaster XL 106 8P. Last year Heidelberg installed 18 new XL 106 printing units at Wilco's site in Amersfoort, making the company one of the biggest users of the latest Speedmaster XL 106 offset press in the world.
• Koenig & Bauer hosted the world premiere of its new 6-colour Rapida 105 Sheetfed Offset Press and showcased its capabilities in a series of live daily demonstrations at the China Print tradeshow June 23 – 27 in Beijing. The 105 was used to produce a broad spectrum of products – including folding cartons and paper posters. The live demos also illustrated different types of job changeovers – not only substrate changes, but also the disengaging and re-engaging of individual printing units.
• The Printing United Expo Preview went live online, free to all who registered for the planned in-person tradeshow set for Orlando, Florida October 6-8. The lead-up provided access to more education, new product debuts and important industry trends, in addition to the what to expect in Orlando.
JULY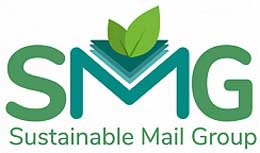 • A new organization focusing on the environmental impact of direct mail – the Sustainable Mail Group (Markham, ON) – was officially launched. Early members included Canada Post, commercial printers, paper and envelope manufacturers, lettershops, marketers, data services and others. With over 6.3 billion pieces of mail printed, produced and delivered in Canada each year, the group invited all interested parties to join them with the goal of adopting best sustainability practices.
• Mitchell Digital (Burnaby, BC) installed the first Kodak Nexfinity Colour Sheetfed Press in Western Canada. The upgrade enabled immediate gains with faster production, enhanced image quality, and a greater range of value-added embellishments. The shop eventually saw a 40% increase in efficiency while reducing production time.
• Canadian trade-only specialist MPI Print launched an ambitious project in Mount Forest, Ontario. MPI held a BBQ party to welcome its staff, customers and suppliers to its sprawling new 175,000 sq. ft. Print & Packaging facility. With two existing locations in Mississauga and Concord, Ontario covering the commercial offset, wide-format and web-press sectors, the new facility will service the packaging and corrugated print markets.
AUGUST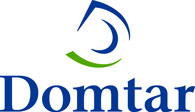 • The majority of Domtar shareholders revealed that on July 29 they voted to merge with Paper Excellence, a diversified manufacturer of pulp and paper with a vast worldwide network of mills and chipping plants. The all-cash transaction represented a value of about $3 billion (CND). Approval was highly contentious, especially regarding sustainability, because the move will connect Domtar to Asia Pulp & Paper (APP) of Sinar Mas Group (SMG). Among other allegations, critics claimed that there was clear evidence linking APP and SMG to 30 years of deforestation and the destruction of wildlife habitat in the 2 million hectares of land under their control.
• The in-person Printing United Tradeshow October 6 – 8, 2021 at the Orange County Convention Center in Orlando, Florida was cancelled. Its board of directors felt the ability to deliver a successful event would be significantly hampered with the rise in cases resulting from the Covid-19 Delta variant.
• Shutterfly (Redwood City, CA) acquired Spoonflower, a global marketplace of custom fabric, wallpaper and home décor designs. The acquisition for about $225 million (USD) increased what people can create, customize and buy on the Shutterfly platform, and will connect 21 million active Shutterfly users to more than 1 million designs by independent artists across the Spoonflower global marketplace.
• Researchers from the University of Cambridge in England developed a method to create a compostable, plant-based "plastic-like" material that's apparently as strong as engineering plastics. The new material could replace plastic in many common household products. It will also degrade naturally in marine environments and in water.
SEPTEMBER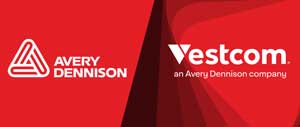 • In a blockbuster deal, Avery Dennison (Glendale, CA) acquired Vestcom for $1.45 billion (USD). Vestcom (Little Rock, AR) is a major provider of pricing and branded labeling solutions at the shelf-edge for retailers and consumer packaged goods companies. It averages about $400 million in annual revenue, has 11 U.S. production facilities and employs about 1,200 people.
• Strategic consulting firm Connecting for Results (CFR, Toronto) extended its Print Wisdom Career Mentorship Program to second-year Ryerson University Graphics Communications Management (GCM) students. It was previously available to third-year and fourth-year students only. The program provides guidance from veterans in the printing industry to students as they begin their careers.
• Print-finishing leader Sydney Stone (Mississauga, ON) installed the first Valiani Optima V250 flatbed cutting system in Canada at Little Rock Printers (Calgary, AB). The vacuum plotter can cut a wide range of materials and is ideal for signage, in-house prototyping, POS displays, and short to medium packaging runs.
OCTOBER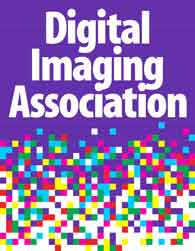 • The DIA (Digital imaging Association) on October 20 brought together industry experts to discuss impending worldwide paper shortages and recommend what steps printers must take to 'neutralize' these challenges. The timely and helpful hour-long webinar Supply Chain Chaos – What's a Poor Printer to do? was one of the most attended in the DIA's history, reflecting the importance of this issue.
• Pack Expo and the co-located Healthcare Packaging Expo revealed that its in-person September 27 – 29 tradeshow was a huge success. According to event organizer PMMI, over 23,000 attendees engaged with over 1,500 exhibitors across four expansive halls at the Las Vegas Convention Center. The event also marked the largest in-person tradeshow in the U.S. thus far in 2021.
• Koenig & Bauer Durst unveiled its VariJET 106 Sheetfed Digital Press in a special online world premiere with exclusive live demonstrations at its production facility in Radebeul, Germany. The modular, single-pass, sheetfed digital press for the folding-carton market is aimed at the pharmaceutical, cosmetics, tobacco and food industries, as well as folding-carton converters. The B1, 5,500 sph press combines digital inkjet with classic offset printing, and was created using "water-based inkjet processes that provide the highest possible print quality."
• Jones Healthcare Group (London, ON), partnered with Good Natured Products (Vancouver, BC) to bring plant-based packaging to Canada's pharmaceutical industry. The new partnership will focus on expanding Jones' current sustainable-packaging solutions. The company's medication adherence packaging products will now be made with Good Natured's Bio-PET – a food-safe recyclable bioplastic. New custom-designed blister-packs will be available through independent and national pharmacy chains throughout Canada.
• Heidelberg's Innovation Week 2021 worldwide event took place online October 13 – 15. Each day began with a live broadcast from Heidelberg's revamped Print Media Center at its Wiesloch-Walldorf site in Germany. The event also included on-demand videos of new products and technology options.
NOVEMBER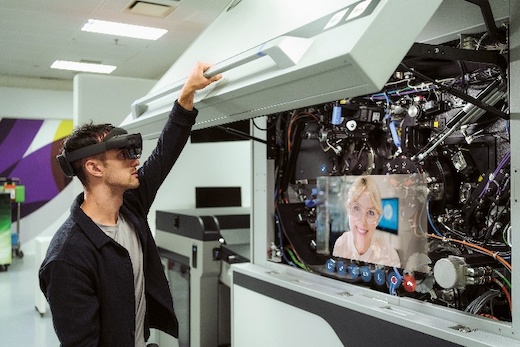 • HP launched the printing industry's first Mixed Reality (MR) service, characterizing its new xRServices technology powered by Microsoft HoloLens 2 as "the latest innovation for the next generation of printers." The collaboration will see HP customers connect with HP engineers in a split second through MR, advising them on any issues at any point in the production process. Wearing a Microsoft HoloLens 2 headset, users will get the feeling of being physically present with a 'virtual coach' to guide them through any press or production-related problems – instead of making lengthy service calls.
• A 'mini-human' hologram for packaging was launched that lets products on the shelf 'talk' to prospective buyers. The bold new direct-to-consumer prototype from start-up technology company Immertia (Geelong, Australia) uses augmented reality to project an ultra-realistic hologram from within the product packaging itself. A shopper's smartphone activates the tiny female hologram by scanning the packaging. Information and advice follows from the product's 'virtual concierge'.
• Stinson Owl-Lite (Concord, Woodbridge and Gormley, ON) installed Ontario's first TrafficJet Pro Printer from Avery Dennison. The Canadian-owned, full-service traffic management and traffic safety company is an acknowledged leader in this segment, having provided solutions for the construction, industrial, private and public sectors for over 60 years.
• The Quebec Association of Sign Makers and the Alliance Québécoise de l'Industrie de l'Imprimé et fabricants d'Emballage, decided to hold their inaugural Visual Graphics Industry Grand Rendezvous for Quebec sign makers, printers and packaging companies April 20 – 21, 2022 in Laval, Quebec at the at the Palais des Congrès du Sheraton Laval. For the first time in Canada, the packaging, printing and signage sectors will come together in the largest exhibition of its kind. The event will include an exhibition floor and a special theatre for presentations, workshops and seminars.
DECEMBER

• Canadian Print Scholarships created a new Job Board exclusive to its donors and scholarship recipients. It was designed to help the organizations' donors and their HR teams recruit, hire and build their brand awareness throughout Canada's coast-to-coast printing communities. Donors will have online access to an exclusive community of skilled students and graduates, of which over 90 are currently enrolled in post-secondary graphic communications programs. These students are excellent candidates for interim and full-time employment.
• Printful (Charlotte, NC) hit a record $1 billion in sales on Black Friday (November 26) and Cyber Monday (November 29). During that weekend, the custom on-demand printing and warehousing company's total gross merchandise value worldwide reached over $1 billion. Plus, Printful has now printed over 40 million items to date. In May of 2020, Printful opened its Canadian fulfillment centre in Mississauga, Ontario.
• UK-based global market research leader Smithers revealed that innovation is essential to the evolution of the printing industry. Its latest in-depth report – Ten-Year Forecast of Disruptive Technologies in Print – assessed the market potential for 23 major innovations in the print industry through to 2031. Smithers' expert analysis examined their individual disruptive potential, cost of implementation, outstanding market and technical barriers, and leading contemporary technology suppliers.
• Franchisor Fastsigns International (Carrollton, TX) surpassed the $600 million mark in sales for the first time in its history, while expanding its franchise network in Western Canada, Southern California and Florida. It added over 25 locations in 2021 and continues to seek qualified talent to fill over 1,000 jobs across its current network.