The transformation has already begun! Expect digital to be the driving force as we emerge from the pandemic – and well into the future. Today, digital textile printing technology is becoming more and more sophisticated – and frankly, quite stunning!
Where we stand now and the pandemic's effects
Dover Digital Printing (DDP – Downers Grove, Illinois) recently released an 11-page whitepaper that explores the effects COVID-19 has had on the textile/apparel industry, while revealing how digitizing the manufacturing process offers enhanced sustainability as well as a bold new way forward. But it also revealed a broken business model: "The problem was already apparent before the pandemic hit sales. The drive towards fast fashion, steep discounting and high retail rents had already created an industry that was teetering on the brink. The pandemic resulted in a high number of fashion retailer bankruptcies, but the majority of these businesses were already floundering before COVID-19 hit. As larger and larger proportions of many companies' collections were sold at a discount, gross margins across the industry started to fall. This put pressure on textile suppliers and manufacturers to create items at the lowest sustainable levels. In other words, there was no slack to give when the pandemic wreaked further chaos."
The good news was that consumer-buying habits have changed, and there's a growing preference for greater sustainability. The DDP whitepaper further identified compelling reasons why digital printing of textiles will play a much larger role in fashion moving forward: "The additional value of digital printing is its ability to increase the number of versions in a collection, and to offer just-in-time manufacturing to respond to changes in demand. This dramatically reduces the need for discounting, which in turn reduces waste. Any reduction in unsold inventory is a win in terms of sustainability, as is digital printing's substantially lower water demand, and its contribution towards keeping production operations within domestic national borders."
The textile transformation
For decades, digital printing for the fashion, décor, industrial and graphics industry was relegated to basic sampling and short-run printing of items such as T-shirts. But with the advantages of today's inkjet technology, the industry is now addressing the demand for environmentally responsible output, innovative designs, and the need to improve supply-chain operations. So let's first examine the latest textile industry trends and their effects. Like many industries, the textile printing market has been changing to adopt new technologies aimed at addressing a new generation of consumers and brands, as well as the supply chain. This massive industry – with over a trillion and a half dollars in annual value in the apparel and accessories sector – is undergoing a key transformation. Brands must adjust to appeal to a new generation of consumers who shop in both brick-and-mortar stores as well as through online retailers. With the digital age, brands as well as textile mills must adapt. Many of these changes have evolved in the past decade as early, high-speed production digital textile solutions emerged. For example, in 2011 Italy-based MS Printing Solutions introduced its Lario, the first single-pass digital textile printer. The changes were impactful in several important areas.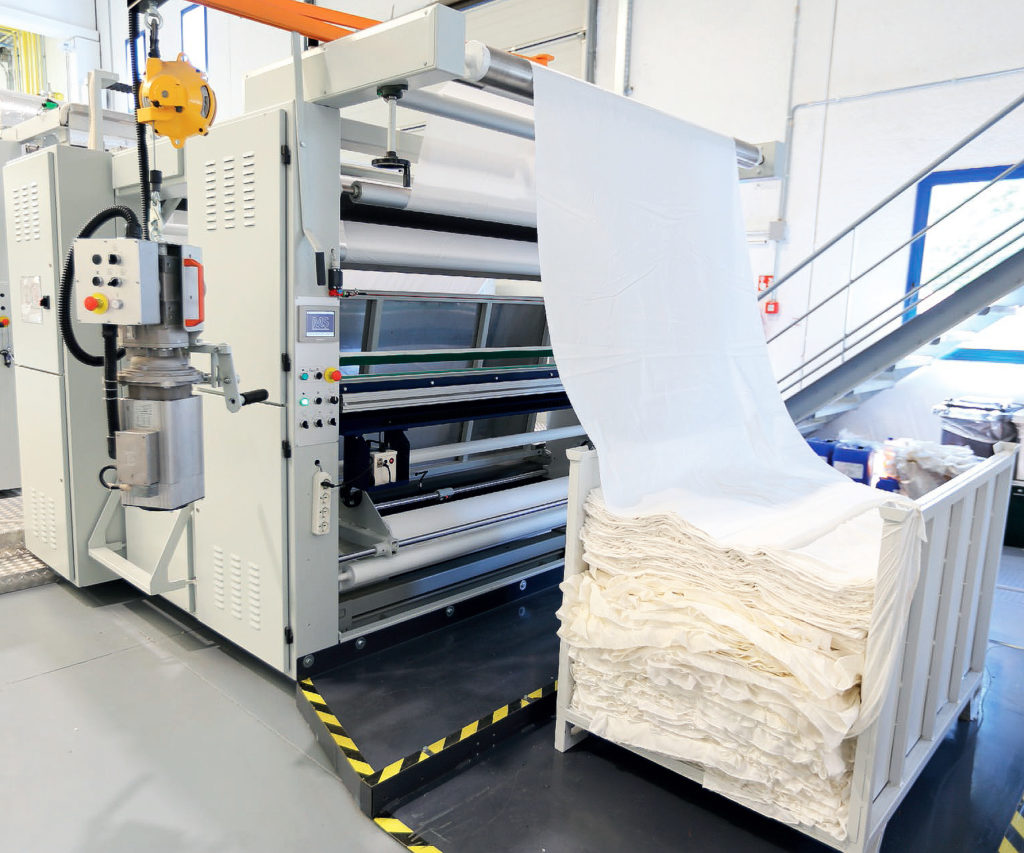 Productivity. One of the largest areas in textile printing that's improved dramatically is the ability to produce 'just-in-time' any length of fabrics or garments. With no cylinder or screen make-readies, and utilizing sophisticated workflow automation tools, textile mills can now produce any design rapidly, while also fulfilling the needs of designers and brands in the fashion industry. Additionally, innovations in colour matching and design are revving up the creative process while shrinking creation time – from months, to weeks, to even days.
Creativity. Improvements in productivity and simplified designs have also translated to greater creativity. With the ability to produce single-item runs, there's no mass production risk associated with taking on new designers. Many brands are allowing promising young artists to compete for 'mind share' and recognition. Today you can order a quarter yard of fabric from traditional textile mills, or a new generation of mass customization, on-demand products.
The environment. Environmental sustainability is now a must. Research has shown that younger generations – particularly Generation Z – prioritize sustainability when it comes to product selection. This group is willing to pay more for products that were created with sustainability in mind. For the textile industry, this signals a major change. Textile manufacturers have traditionally been a large polluter, with 20% of global wastewater produced by textile mills.
Optimizing the supply chain
The textile market is absolutely changing as digital fabric printing print volumes continue to grow at a 19% CAGR (compound annual growth rate), and are predicted to reach about 4 billion square meters in 2022, according to Keypoint Intelligence. With productivity and creativity trends forcing companies to adapt to a more flexible production schedule that prioritizes product diversity, it's only natural that improvements would come to this vast supply chain.
Integration into product lifecycle management (PLM). When brands plan their next season, they most often use a PLM system. These tools are aggregators of all the components needed to usher in a successful new season. From managing resources, design components, collections and ensembles, to patterns and product photography, these collaborative platforms enable all the functions and processes in the creation of next season's products. This is an important coordinated effort from brands, designers, textile mills and cut-and-sew operations, to move products to shelves or ship them out in packages.
Just-in-time manufacturing. While just-in-time (JIT) manufacturing has been a term that's existed since the 1960s, it's grown in applicability in recent decades. JIT manufacturing allows new businesses to get their product lines to market in days or weeks, rather than months. For larger organizations, it can mean rapid responses to the fashion industry's needs to meet seasonal demands. Seasonal variations can be on shelves 'on time' – giving textile companies better ability to please their customers.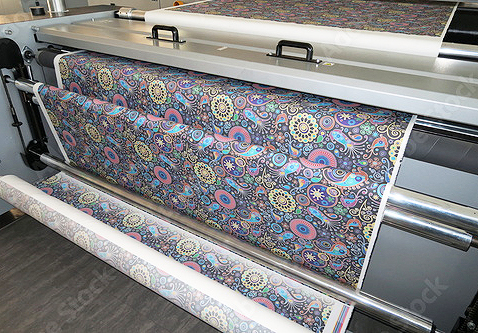 Digital printing. The shift toward digital printing can also mean improved inventory planning, resulting in less overstocked items and warehousing needs. As textile service providers move away from longer runs and shift toward short, varied and targeted production, they've been better able to match products to client needs. Clothing can now be made as needed rather than in bulk, letting companies spend less on inventory that may or may not sell. These capabilities ushered in a new type of fabric suppliers – on-demand manufacturers. These companies use what's called a Purchase Activated Manufacturing business model, whereby production commences only once an order was received and paid for in advance. There are no finished goods in the warehouse, just blank raw materials.
Mass customization: The rise of on-demand fabric manufacturing
With the supply chain shortened using new printing technology, and continued advancements in workflow, new players have entered the market, empowered by easy online tools that make it simple to start selling customized clothing commercially. These fit into the growing uses of e-commerce in the apparel industry, where continued growth will drive estimated revenues up to $145 billion by 2023 according to Statista's 2018 Digital Market Outlook. Several suppliers epitomize this trend, including three current leaders in this space – Spoonflower, Amazon Merch and The Color Soup.
Spoonflower. Spoonflower has been serving the creative and hobbyist markets for many years. It created a community of pattern designers who are linked to customers on the company's virtual platform. They can customize fabrics, wall coverings and wrappings on the site, while modifying home décor elements on the Roostery site. The company makes use of digital print technology for cotton and man-made materials that require no extensive use of water for processing – namely pigment inks for cotton and sublimation inks for synthetics. Hundreds of thousands of jobs are processed annually.
Amazon Merch. Giant online retailer Amazon realized the potential of digital printing several years ago when it started printing books on demand. Today, Amazon is an investor in companies such as Kornit, which supplies the company with DTG printers that enable Amazon Merch's "print-per-buy" operation. Amazon offers its front-end infrastructure to entrepreneurs with designs and ideas, and then provides the ability to benefit from Amazon's backend infrastructure to get those ideas fulfilled. Its services support independent designers and large-scale brands. That being said, sellers on Amazon Merch must split their profits with Amazon, earning only a royalty with each sale.
The Color Soup. With several industrial sites, The Miroglio Group from Italy operates in 22 countries providing materials as well as vertically integrated fashion brands. It's been using single-pass inkjet printing since its inception in 2011 via its Lario Textile Printer, and has also been a pioneer in environmental preservation and design innovation. In 2015, it created The Color Soup as an online portal for the creation and ordering of high-end fashion fabrics for anyone with a browser and internet access.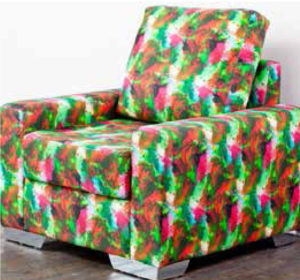 Ongoing technology innovations
Today we're experiencing relentless innovations in print technology and materials science, with the latter driving the use of various types of inks needed for optimal results on a wide range of fabrics. From reactive dyes used for 'naturelle fibres,' to high-energy and low-energy sublimation inks, to those specialty inks for silk and nylon printing (i.e. acid), plus the emergence of new generations of pigment inks that can print on most fabrics without the intensive use of water (as is the case with some textile inks), a new world of design freedom and colour has emerged. Digital printing has evolved from the early 1980s where it was used for strike-off only (i.e. proofing), to today where some single-pass textile production printers can reach speeds up to 90 m/min and beyond. With textile-specific transport systems, we've seen the impact of print head improvements and cost reductions that enable production systems from 1.8 to 3.2 metres wide or more.
According to Keypoint Intelligence's Annual Digital Textile Printing Industry Forecast 2017-2022, about 12,000 digital printing devices that produce garment, décor and industrial fabrics, will be installed by 2022. This will drive higher print volumes, reaching about 4 billion square metres of printed fabrics globally. In the textile industry today, technology innovations have reached new heights to include up to 12 colour channels and upwards of 64 print heads, to allow for high throughput of thousands of square metres an hour. Many of these machines also use a 'sticky belt' that enables the even transport of fabric through the entire printer.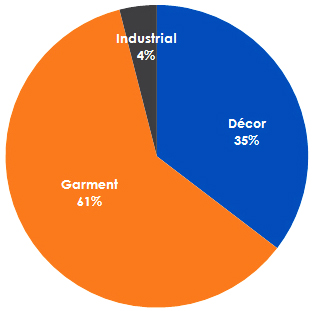 Single-pass printing's introduction in 2011 by MS Printing from Italy, has resulted in a new area of high-speed textile production. Today, additional single-pass technology has emerged from a range of suppliers capable of printing upwards of 90 linear metres per minute! The manufacturers of these systems are also working on multiple ink-system configurations, inline quality control and more. There are also exceptional hybrid systems that combine analogue and digital systems working in perfect harmony. Lately, we've also seen flat-screen analogue frames inline with a scanning-head printer to form a tight integration between the latest in inkjet with traditional analogue processes.
Nevertheless, the main hurdle to overcome for many companies is converting fabrics into garments. Cutting, sewing and accessorizing finished garments is still labour intensive. As automation encroaches on workforces worldwide, the textile industry will undergo its own evolution. Projects aimed at automating the sewing progress using a multi-stage sewing assembly line with intelligent sewing machines and sensors will emerge. These systems will eventually outpace human production due to non-stop operation. Even future threads used for sewing will be dyed on the fly using digital technology.
Keypoint Intelligence's assessment
Product customization and reducing environmental impact are trends that will continue to impact the textile printing industry. Today, digital printing firms are starting mass-customization efforts that deliver on-demand printed textiles. Major brands are taking note of this and are looking for solutions to achieve their goals – namely consistently high quality product creation, waste and inventory reduction, and satisfying customer demands quickly for design innovation and personalization. Many lessons learned in the printing industry regarding production consistency and workflow automation are now being adapted by textile printing equipment suppliers. But to create significant impact, digital printing will need to move beyond quality short-run printing. As equipment suppliers integrate 2D and 3D design capabilities into their machines that can print directly onto clothing, we'll see automation kick in for cutting, sewing and integration with vertical manufacturing platforms. These will enable micro-factories to emerge locally and produce timely customer-oriented products. When this happens, it will likely be a part of massive supply-chain realignment that will take some time to fully materialize.
Major industry players
Here are our selections and the latest technology from some of the industry's top equipment manufacturers. In a perfect world, we'd love to showcase every digital textile printer on the market.
MIMAKI. Mimaki's Tx300P-1800 MkII is ideal for small to medium-sized companies wishing to enter the lucrative textile printing market. The OEM's latest digital textile printer is an exceptional hybrid solution in terms of printing processes, inks and the range of printable fabrics and substrates. It easily handles different types of orders in small runs. The entry-level solution provides both direct-to-fabric and transfer-printing capabilities. With interchangeable platens and three different ink combinations, an operator can easily switch from one printing process to another, thus offering unprecedented versatility in production. When printing directly to fabric, excess ink passing through the fabric is drained via a special ink channel fitted to the platen. When printing on thermal transfer papers, the platen can be easily replaced with a vacuum table.
The TX300P-1800 MkII can be installed with a single ink set – one of the five ink types traditionally used in textile printing (i.e. dye sublimation, disperse, acid, reactive or pigment-based). Or, various ink combinations can be configured – including pigment-based/direct sublimation, pigmented-based/sublimation transfer and direct sublimation/sublimation transfer. It's precisely this feature that helps ensure optimum results for each individual application, expanding the range of processes and substrates supported. From cotton, linen, silk, wool and leather, to polyester, nylon and other fabrics, this printer is highly versatile when it comes to accommodating various fibres and materials. The TX300P-1800 MkII has all of Mimaki's core technologies, including an MAPS4 system to reduce banding, and a Nozzle Check Unit (NCU) for interruption-free printing. In addition, the printer comes with Mimaki's innovative 'high head gap' technology. Allowing the distance between the print heads and the substrate to be adjusted ensures precise positioning of the ink drops on more complex materials – such as thick or knitted fabrics.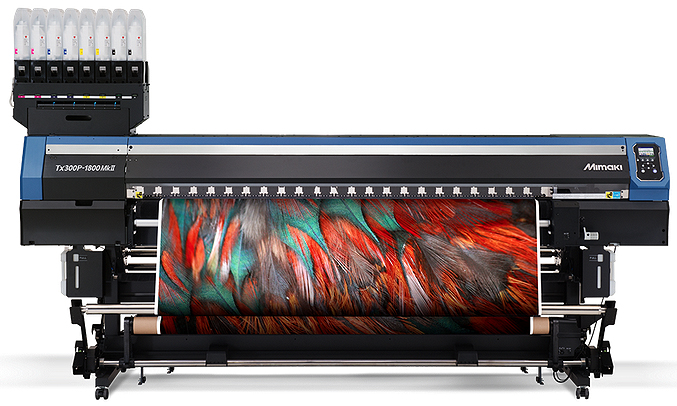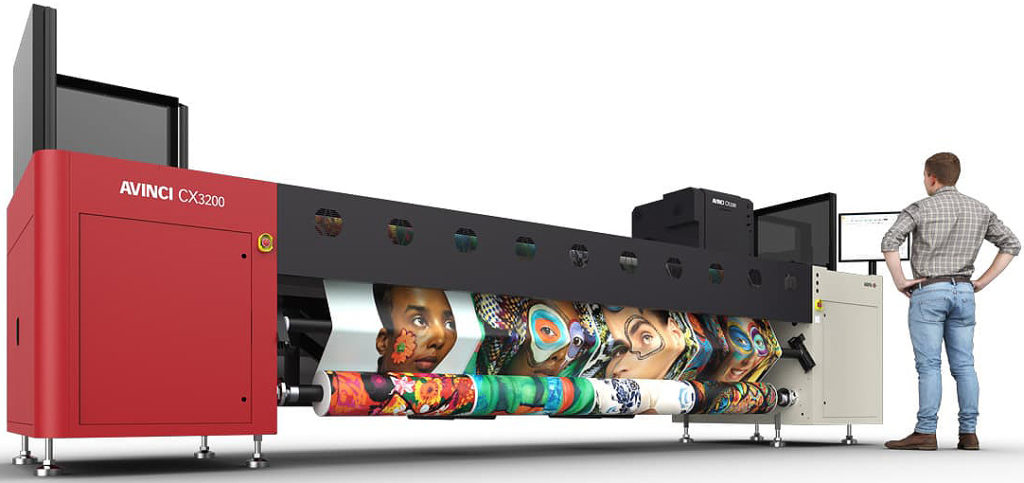 AGFA. Though Agfa is known as a world leader in wide-format printing, in June it launched its Avinci CX3200 soft signage, dye-sublimation roll-to-roll printer that can print directly onto textiles or onto transfer papers. Delivering vibrant print quality on a wide range of non-coated polyester fabrics, it can create textile prints up to 3.2 metres wide at speeds up to 270 m²/hr. while utilizing eco-friendly, odourless, water-based dye-sub inks. Being able to print directly onto fabrics is ideal for soft signage applications such as banners, wall graphics, POS, tradeshow displays, flags and more. Transfer paper, in turn, allows for sharp prints, eliminates set-off, reduces media waste and extends applications to include sportswear, fashions and home-décor prints on non-coated polyester fabrics. The dye-sub inks feature high outdoor resistance. The new engine can handle single prints to large runs in a 24/7 high-production set-up. A pre-heater reduces drying time and set-off, while vacuum technology makes sure that thin transfer papers are kept wrinkle-free. A single operator can load a new roll in under seven minutes.

EPSON. Epson's latest rollout in July was its flagship SureColor F10070H 6-colour dye-sublimation printer for industrial, 24/7 production. It features six new, user-replaceable 4.7" PrecisionCore print heads that deliver roll-to-roll performance at speeds up to 2,635 ft2/hr. The F10070H consistently produces high quality textiles, apparel and more using vibrant UltraChrome DS6 Inks. A low-cost, high-capacity replaceable ink pack system holds up to 20 litres of ink per colour for long runs. Multiple ink configurations include light cyan and light magenta, or fluorescent pink and fluorescent yellow for vivid customized apparel and décor. An auto paper-tension control and a fabric head wiper further contribute to uninterrupted production. Plus, the fashion industry and educators have taken note of Epson's ingenuity in this sector. The FX LIFT (Leading Innovation in Fashion Technology) Lab launched in October of 2019 at the Fashion Exchange at George Brown College in Toronto, has been using Epson's SureColor F9370 Wide-Format Textile Printer since it opened.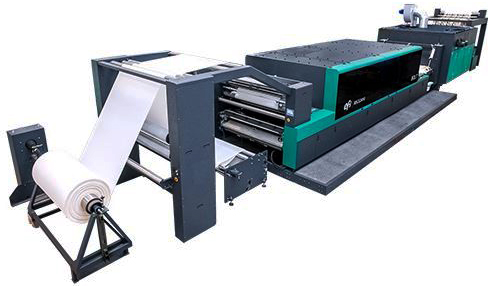 EFI REGGIANI. Characterized by the OEM as "The World's Fastest Digital Textile Printer," the EFI Reggiani Bolt is a single-pass printer with speeds up to 295 fpm, print resolution of 600 x 600 dpi and high-end grayscale imaging in drop sizes from 5 to 30 picolitres. Recent upgrades include hardware and software enhancements that minimize artifacts, and enhanced uniformity that delivers smoother solid colours. The upgrades also improve print quality via smoother gradients, while enabling faster print head replacement and increasing processing speed by up to 200% for large, complex files. The enhancements are an important step in bringing greener, more-sustainable inkjet technologies to the market as a replacement for analogue dyeing procedures that make textile manufacturing the world's second-largest-polluting industry.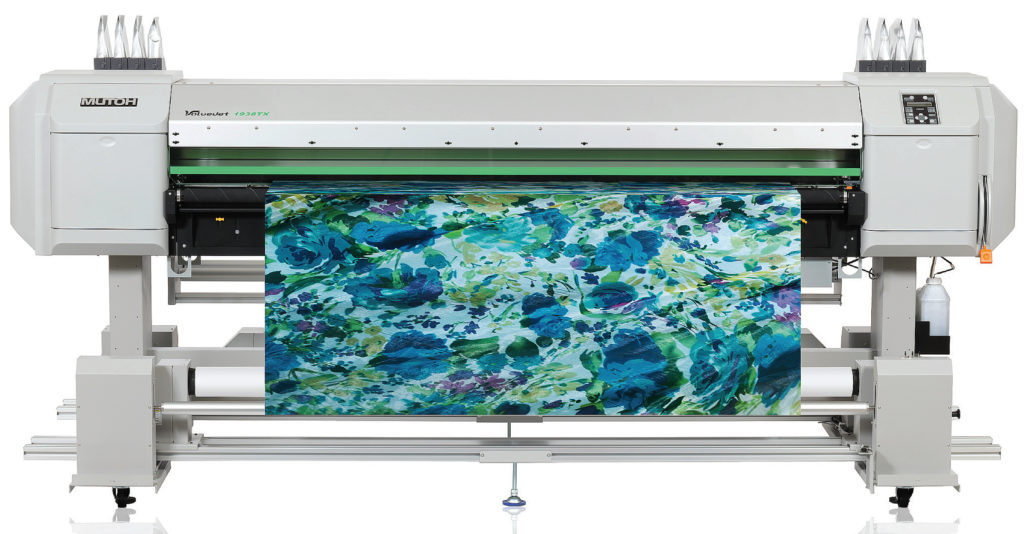 MUTOH. The OEM's 75" ValueJet 1938TX direct-to-textile printer can create customized fashion apparel, upholstery, interior decor, scarves, tradeshow graphics, soft signage, flags, sportswear and more and can handle closed, open non-stretch, face-in and face-out roll media. Its Smart Printing Technologies, wide print area and fast speeds are only a few of the features that make the ValueJet 1938TX a valuable addition to any shop looking to enter or expand their textile printing applications. The ValueJet 1938TX utilizes two printheads for fast print speeds up to 914 ft2/hr, while its 8-channel piezo print head technology creates sharp images. The 1938TX is compatible with: reactive inks for rayon, cotton and silks; acid inks for nylon, silks and wools; disperse dyes for polyesters; and pigment inks for natural, blended and coated fabrics.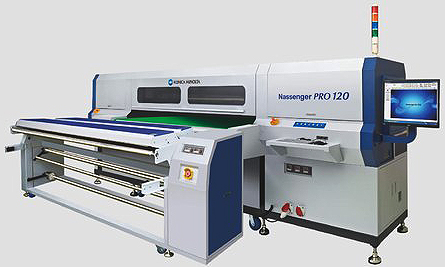 KONICA MINOLTA. Its 9-colour Nassenger Pro 120 uses reactive-dye inks and nine high-density, water-based inkjet print heads each with an independent drive system for high productivity. With a maximum speed of 120 m2/hr, the Pro 120 can handle everything from sampling to high-volume production. Automatic printhead maintenance and empty-ink detection technology enable stable, continuous production and labour savings. Other key functions include fabric wrinkle, entanglement and fabric-end detection, while displaying print-track records in real time. Capable of printing on widths up to 1,850 mm, the Nassenger is ideal for everything from fashion apparel to interior products such as bedding. Its ability to handle thicknesses up to 3 mm also makes it ideal for towel printing. A built-in dryer and winder make the Pro 120 "a total textile-printing solution."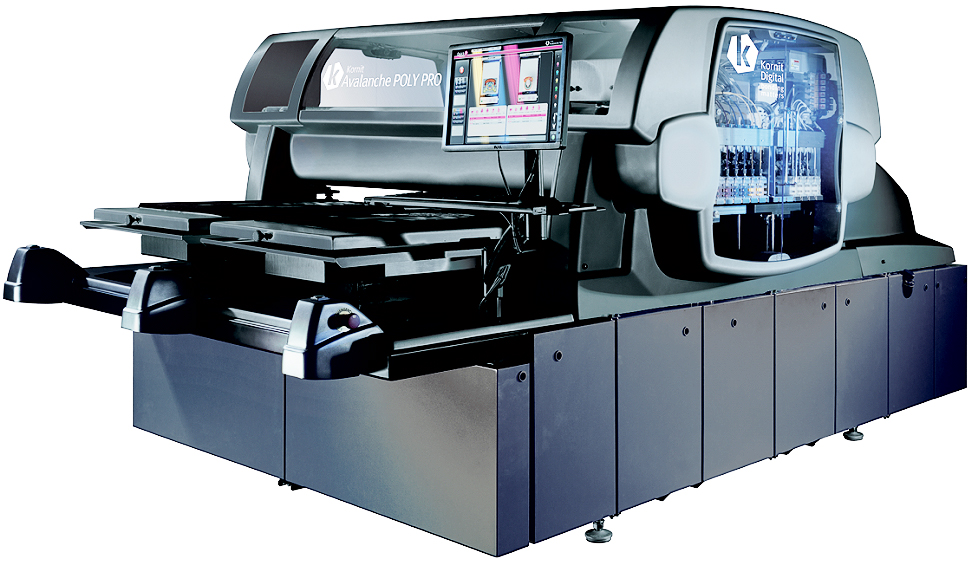 KORNIT DIGITAL. Kornit NeoPoly technology is "the industry's first digital industrial process for high-quality printing on polyester," said the OEM. Polyester is popular in the sports segment, and is growing in the 'athleisure' and functional apparel sectors. Current analogue solutions create major cost and sustainability challenges. Kornit NeoPoly technology addresses these issues with a unique process and NeoPigment Olympia inks that can handle polyester without compromising on design, run size, substrate or labour. The ink set was developed specifically for low-temperature curing. Polyester-enhancing functions facilitate colour fastness and the process also prevents dye migration. The first system equipped with NeoPoly technology is the Kornit Avalanche Poly Pro – a CMYK+White+Poly Enhancer, 1,200-dpi, single-step system with a printing area up to 23.5" x 60" that's also ideal for cost-effective short runs.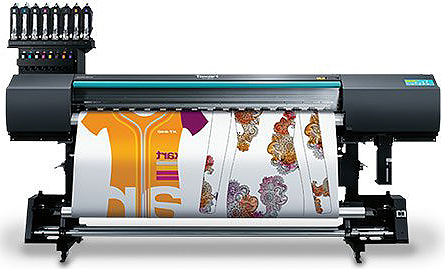 ROLAND DG. Its large-format Texart RT-640 Dye Sublimation Printer is ideal for soft signage, apparel, décor, promotional goods and other profitable applications. Designed for ease-of-use, an automatic feed adjuster and media take-up system ensure even tensioning and prevent skewing of transfer paper, while a powerful vacuum keeps the paper flat for printing. A Roland DG Ink Switching System automatically switches to the back-up ink pouch when the primary pouch runs out, providing up to 2,000 ml of ink per colour in CMYK mode. Texart ink delivers dense blacks, a wide colour gamut that includes orange and violet options, and a high dye concentration that maximizes high colour density and vibrancy. Texart SBL3 ink (also available in fluorescent pink and yellow) can produce vivid fluorescent colours and soft pastel shades for fashionable sportswear, décor and soft signage.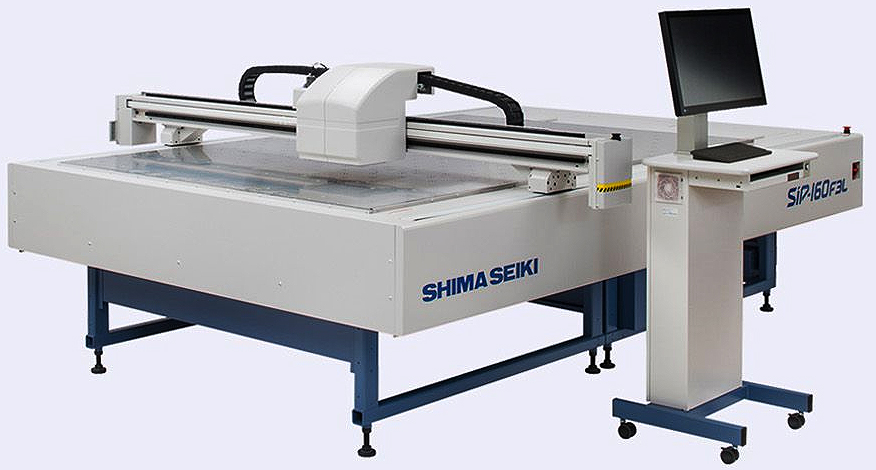 AMERICAN PRINT CONSULTANTS (APC). Its wide-format Shima Seiki SIP-160F3 DTG Flatbed, from one of Japan's leading original textile printing equipment manufacturers, is ideal for printing directly on a variety of finished items, and can print multiple items at once. The head carriage can be raised or lowered according to the thickness of the item up to 1.96." This allows printing on fabrics with 3D textures and directly onto completed products, including whole garment knitwear "at a lower cost than other flatbed DTG printers in its class." The printer is available in two sizes with three different ink options – textile pigment (includes white ink), acid and reactive. It's also ideal for current DTG shops that need to increase volume or want to print on a wider variety of items and sizes.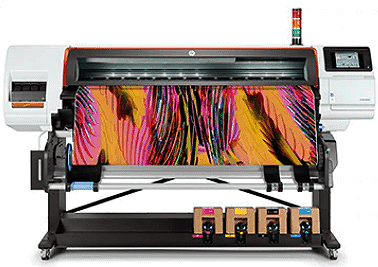 HP. Its Stitch S500 Dye-Sublimation Printer (the series also includes the S300 and S1000) was engineered to keep production running smoothly even when unattended or overnight, while yielding high image quality and consistent, repeatable colours. Adopters save time and money with user-replaceable print heads, and reduce manual interventions with automatic maintenance. HP PrintOS software simplifies and controls all print operations. Users can efficiently and remotely monitor printer status and ink/substrate use. Features include up to a 64" roll width, 3.775 litre ink cartridges, accepts large rolls up to 121 lbs, two high-efficiency CMYK print heads, and has a maximum production speed up to 1,185 ft²/hr in one pass. The series, however, can only be used with cartridges using an HP original chip. Users can also download or create their own colour profiles.
Special thanks to Ron Gilboa, formerly of print industry market research leader Keypoint Intelligence – InfoTrends (https://www.keypointintelligence.com/), as well as Messe Düsseldorf GmbH, organizer of drupa 2024 (https://www.drupa.com/), the world's largest printing industry tradeshow, for providing selected content used in this feature.